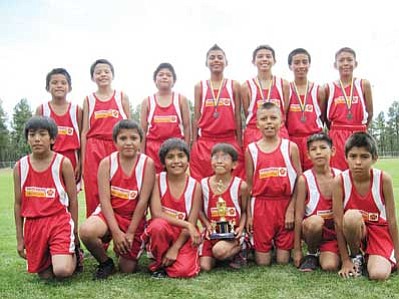 Originally Published: October 2, 2012 10:13 a.m.
PINETOP, Ariz. - Sept. 22 proved to be a great day for racing for the Tuba City Boarding School Thunderbird Cross Country teams. Both boys and girls took home first place team trophies, with a total of 12 individual medals. The top 15 overall runners received individual medals.
The boys' team scored 31 points to win first place as Mount Elden Middle School (Flagstaff, Ariz.) scored 41 for second. Rounding out third place was Blue Ridge Junior High with 76 points. Running an amazing race for an overall finish of first, Jaiden Melendrez came in at a time of 13.16 followed by teammate Ronson Begay finishing 20 seconds after Melendrez. Terrell Arizona finished fourth overall, Chad Williams came in sixth overall, and rounding out the top five was Andre Melendrez finishing 18th overall.
The girls' team scored an amazing 17 points to take first place, with Mount Elden scoring 58 for second, and Blue Ridge Junior High finishing third as a team with 60 points. The Thunderbird girls' team was a sea of red runners flooding in to the finishing shoot. Kandice Tanner ran to victory with a time of 14.32 finishing first overall, followed by teammates Angel Curley 14.53, second overall, and taking third place was Summer Yazzie with a time of 15.03. Completing the top five runners from the Thunderbirds for a team score was Feather Eagleman, 15.35-fifth overall, and Shalyn Nockideneh 15.47-sixth overall. Amazingly, there were a total of eight girls from the Thunderbirds who received individual medals in addition to the top five Thunderbird runners: Autumn ByJoe (seventh), Vivian Begay(12th), and Chanel Coolie (13th place).
An elevation of 7,200 feet proved to be no setback for the Thunderbirds. Each runner did amazing at the Shane Morris Invite at Pinetop, Ariz. The runners and coaches would like to thank all their supporters.
"Without anybody cheering for us, it would be really quiet," said a Thunderbird runner.