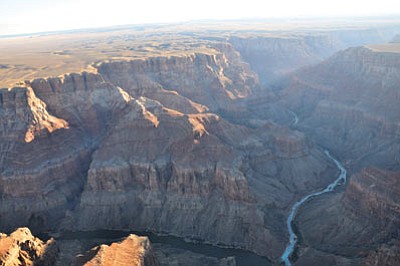 Originally Published: November 27, 2012 10:35 a.m.
WASHINGTON - Less than a week after tribal leaders and federal officials met in Washington to try to breathe life back into a water-rights deal, a Navajo task force met Tuesday in Window Rock to consider terms from that last gathering.
A notice of the meeting said it was "urgent" that officials meet to consider the terms of the deal offered by the Interior Department, but calls to Navajo and Interior officials were not immediately returned Wednesday. It was not clear what action, if any, was taken.
But critics of the deal were circulating a document before the meeting that they claimed laid out the points at issue.
The document, marked "confidential," described issues raised by Hopi and Navajo leaders during the Washington meeting. The cover letter from Deputy Interior Secretary David J. Hayes to Navajo Nation Speaker Johnny Naize emphasized the need to focus on those issues in order to get a deal done in the waning days of this Congress.
"As we have discussed, the remaining time that we have available to achieve congressional action this year necessitates our focus on these core issues," the letter said.
The meetings are part of a recent push to revive a proposed settlement between the Hopi, Navajo and about 30 other government and private parties of tribal claims to water from the Little Colorado River.
A bill from Arizona Sens. Jon Kyl and John McCain would have built water treatment plants and pipelines and guaranteed the tribes a certain amount of water, in exchange for the tribes waiving any future claims.
The bill, introduced in the spring, stalled this summer when both the Hopi and Navajo governments voted against the proposal in the face of strong public opposition. Critics had charged that the bill intrudes on tribal sovereignty and is a violation of natural law.
But at last week's meeting in Washington, Interior Secretary Ken Salazar said he hoped to reach agreement "in the coming days and weeks" on a deal that "will deliver critical water, infrastructure and economic development" to the tribes.
That meeting reportedly produced the term settlement sheet circulated this week that says "there may be a narrow window of opportunity" to pass the water-rights legislation.
The sheet lists four "core positions" for which the department said it would advocate on behalf of the tribes, including language to specifically preserve Salazar's ability to take land into trust and a promise to remove the Navajo Generating Station from the bill.
The term settlement sheet said "a new bill would be introduced in Congress to achieve a final Little Colorado River settlement" if negotiations are successful.
During an October visit to Arizona, Salazar had invited both tribes to Washington to restart negotiations.
Last week was the first time Salazar met with Navajo President Ben Shelly, Hopi Chairman LeRoy Shingoitewa and other tribal leaders to discuss the Little Colorado agreement, according to the department. Also present at the meeting were Kyl and Assistant Secretary of Indian Affairs Kevin Washburn.
President Barack Obama has signed six water settlements into law, including one in 2009 that settled Navajo water rights in the San Juan Basin in northwest New Mexico.