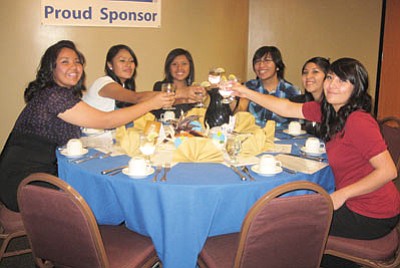 Originally Published: November 27, 2012 10:52 a.m.
CAMP VERDE, Ariz. - Over the past few years, Hopi Jr./Sr. High School's National Junior Honor Society (HJSHS) has donated money to the Hopi Education Endowment Fund (HEEF).
NJHS' good work has not gone unnoticed. The Northern Arizona Chapter of the Association of Fundraising Professionals (AFP) honored NJHS Nov. 15, on National Philanthropy Day, with the Youth Philanthropy Award. This award in turn nominates the students for the International Philanthropy Award.
AFP representatives recognized 11 NJHS students at Cliff Castle Casino along with their advisor Rita Keith, Hopi Junior High Principal Albert Sinquah and HJSHS Board President Valerie Kooyaquaptewa.
Hopi's NJHS was the only Native American group attending the ceremony and one of only two youth award recipients.
HEEF nominated Hopi NJHS for the award.
HEEF Executive Director LuAnn Leonard said HEEF has been fortunate to receive $1,500 from NJHS' fundraising efforts since 2010.
"They know their donation not only helps other Hopi students achieve their educational goals, but they also see it as an investment in their own educational futures, as they or future family members may be a recipient of a future scholarship," she said. "Through their contribution, they are demonstrating scholarship, character, service, citizenship and leadership within our Hopi community."
Keith thanked Northern Arizona Chapter members for selecting Hopi's NJHS for the award.
"When the members were deciding to donate to a worthy cause they wanted to make their donation local in order to help someone in their own community," she said. "Their contribution reinforces the principles of NJHS."
Keith thanked HEEF staffer Vernon Kahe for nominating Hopi NJHS. She said NJHS selected HEEF because they were impressed with their good work helping students with their post secondary goals.
"I knew their decision (was to donate to HEEF) when I saw their faces light up at the pictures of family members and friends who have received scholarships through this worthy organization," she said.
Lexie James, a Hopi High junior who hopes to attend Fort Lewis College, said the NJHS officers saw this as a chance for others to obtain an education.
"As we made our yearly donation, we were giving someone the chance to go further in life as well as putting money towards our future," she said. "Education has always been an important aspect of life for the Hopi people. Chief Loloma, a former leader, told the people to get educated in the white man's way of survival and understanding."
James, a journalism student, said selecting HEEF was a chance to help others get the education Chief Loloma wanted for his people.
"Giving to others is deeply rooted in Native American culture just as getting an education is. So, giving to the Hopi Education Endowment Fund seemed like the perfect opportunity to do both," she said.
Crystal Jenkins, a junior, said her group thanks AFP and HEEF for the great honor of this award.
"It has inspired each of us to go out and to find ways after we graduate to give to others and to make it a natural part of our lives," she said.
As the president of the first NJHS group to donate to HEEF, Jenkins said the award taught group members what a difference the true power of giving can make.
"It inspires us when we hear how we have helped students reach their goals and go to college," she said.
Jenkins, a senior who hopes to attend the University of New Mexico, noted that former Hopi High graduate Michael Adams received the scholarship in 2011. He is now working toward his Ph.D. at Northern Arizona University.
"Although we only donate $500 per year, it is heart-warming to hope we have made a difference," she said. "This award has inspired us to do more and we hope to expand our efforts in the future. After all, that's what the NJHS is about."
The other students joining James and Jenkins at the award ceremony were Sheldon Nanacasia, LaKayla Adams, Jennifer Lomayaktewa, Mikayla Paul, Raicardo Jim, Josh Sidney, Aidan Fredericks, Kyle Honvantewa and Kursheena Yazzie.
Leonard, who thanked everybody who has supported HEEF since it began 12 years ago, said these students are setting a great example of giving back and hopes others join them in their efforts to support HEEF.
The Northern Arizona Chapter also named Kaileigh Koons the Outstanding Youth in Philanthropy; Rising Star: Stephen Wisenhut; Business/Corporation: El Gato Azul, Barry Barbe; Outstanding Nonprofit Organization: Prescott Noon's Lion Club; Outstanding Volunteer: Chip Norton; and Outstanding Philanthropist: Perry and Sandy Massie.