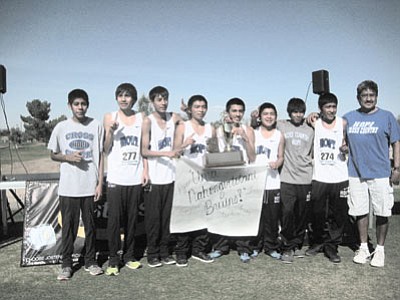 Originally Published: November 13, 2012 1:55 p.m.
PHOENIX, Ariz. - The Hopi High boys cross country team won a national record 23rd consecutive state championship Nov. 3 at Cave Creek Golf Course in Phoenix.
Hopi High won with 56 points edging out Pusch Christian who finished second with 71 points. Northland Prep from Flagstaff grabbed third with 169 points, Veritas Prep finished fourth with 176 points, Many Farms finished fifth with 184 points, Thatcher took sixth with 246 points, Augustine settled for seventh with 249 points and Sedona Red Rock placed eighth with 265 points in the 16-team race.
Sophomore Anfernee Howard led the Bruins with a third-place finish but, the rest of the Hopi High runners weren't far
See Champions, Page 4BFrom Page 1A
behind. Ryan Sinquah snagged ninth, Terry Honventewa grabbed 12th, Aaron Swimmer finished 15th, Kelan Poleahla placed 17th, Stephen Tootsie placed 22nd and Skylen Tootsie finished 26th.
Klye Cajero, a junior from Pusch Ridge, was the individual champ with a time of 16:25. Cullen Hamblin, a senior from Northland Prep, took second.
Hopi High Coach Rick Baker, nicknamed "The Legend" because of all of his championship wins, said with this year's inexperienced squad he wasn't confident the team would pull out a victory this time.
"We ran a strong race," he said. "Ryan (Sinquah) ran for the first time. Terry (Honventewa) is a new kid. We had four new runners."
Baker said the first mile was touch and go because Pusch Ridge's top four runners were ahead of Hopi's top four runners.
"But in 'no man's land' we pulled ahead and stayed ahead for good," he said. "The championship is good for the community, the school and the kids. It continues our tradition of running and winning."
Baker said he is proud of all of the team's state titles, but perhaps this one is a little bit more special because it was tougher.
"It took longer to see what this team could do," he said.
Anfernee Howard, Hopi's 16-year-old sophomore, said he was happy with the win because the Bruins accomplished their goal.
"It's cool to have a national record," he said. "I felt like we succeeded. I think Hopi ran a heck of a good race. We won, duh."
Howard said the Hopi High runners ran a good race because they stayed in a pack. He liked the course because it had a lot of hills. He didn't mind the heat because he was focused on the race. He said the key to winning was giving 110 percent and keeping the team as close together as possible.
He plans to run throughout the summer to prepare for next season.
"The team should be good next year because we're all underclassmen," he said.
Baker said this Hopi team was inexperienced, but that there were no issues with behavior, grades or injuries.
"This group was motivated and they had trust in their training," he said. "This makes the Hopi Nation proud. We want to thank all the fans that came down. A lot of the fans were former runners, alumni."
Aaron Swimmer, a 16-year-old junior, said he's glad this year's team isn't the Hopi High team that didn't win state.
"I'm proud to be part of the winning tradition," he said. "This year was different by the last varsity team not being there because some were good friends to me," he said.
Swimmer said moving from junior varsity to varsity meant a lot more pressure and more workouts. He said the race was challenging.
"It was pretty hard with the hills and flats back at the 'no man's land' but I enjoyed it," he said. "The race was competitive as other teams tried to take our title away, but we came out on top."
Swimmer said he ran okay in the heat since he tried not to think about it. He said the key to winning was to keep positive and give 100 percent for the Bruins. He has high expectations for next season.
"I have confidence that we are all strong and all good runners, plus there's a chance of new runners coming out," he said.
Baker noted that assistant coach Juwan Nuvayakva is one of his former runners.
"Now he's one of the best assistant coaches in the nation," Baker said.
Baker looks forward to next season when the Bruins will have six returning runners.
Kelan Poleahla, a 15-year-old sophomore, said he is proud of himself and the team for working hard all season and accomplishing team goals. He added the Hopi High runners improved slowly as a team and individually compared to last year. This season's state run was more competitive than last year.
"We all run together as a group and ran strong and smart. Nahongvita," he said.
Poleahla said the course was fun and he ran well until the last 800 meters. He said the key to winning was running every day and always giving 100 percent. He said the Hopi High runners will run everyday to get a head start for next season.
Stephan Tootsie, a 17-year-old senior, said he felt good about winning another title.
"We reached our goals and kept the tradition going," he said. "It was different this year because we had a young team and it was the first year running for some of us."
Tootsie said Hopi ran a good race because there was a lot at stake this year. He said the course was a good one with dirt, grass and some hills.
"It was hot, but it really didn't affect me. I didn't think about it much," he said. "Some teams ran tough with us and of course there were a lot of good runners."
Skylan Tootsie, a 15-year-old sophomore, said he was thrilled that Hopi High accomplished its final goal for the season.
"The key to winning was running every day with pride," he said.
Tootsie said he will run all summer to prepare for next season.
More like this story