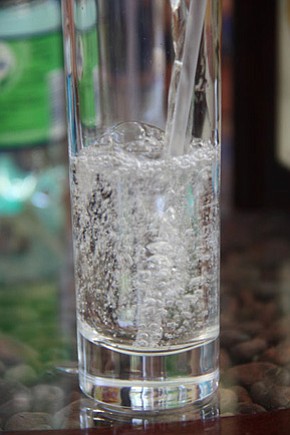 Originally Published: May 9, 2012 3:39 p.m.
FORT DEFIANCE, Ariz. - After careful review and consideration, the Navajo Tribal Utility Authority (NTUA) will formally propose to increase rates for water and wastewater rate utility services.
"The last time we restructured the rates for water and wastewater utilities was in 2006," said NTUA Deputy General Manager Rex Kontz. "At that time our customers told us that we should not wait too long to seek a rate increase and to propose changes periodically in lesser amounts."
NTUA is proposing to increase 4 percent each year for four years separately for water and wastewater services. On the average of 4,000 gallons of water used per household, the proposed increase would be .85 cents more per month, depending on overall household usage.
For example, for an average household using 4,000 gallons of water would be billed $21.25 per month. Under the new proposal, that billing amount for water would increase to $22.10 per month, reaching an annual amount of $10.20 per year depending on actual usage.
"The previous rate adjustment was designed for five years. We stretched this into six years," said Kontz, explaining that NTUA internal measures are not enough in helping to maintain business as usual. "The cost of doing business is rising,"
"Increasing business expenses - such as equipment, materials, and maintenance - and growth, meeting regulations and demand have impacted water and wastewater utilities," Kontz said.
"Our costs increase over time for basically the same reasons that the cost of gasoline, the cost of groceries, the cost of a vehicle, etc., etc., go up over time due to inflation," he added. "Prices are increasing everywhere and we cannot wait any longer."
When reviewing the current base rates for utilities, NTUA looked at the general cost of doing business, including operational and maintenance expenses, as well as capital costs such as water storage, maintenance of water lines, and water pumping costs. The costs of water treatment, water distribution, sewer collection, and wastewater treatment are also part of the rate increase proposal. "We consider that it is our responsibility to make sure our revenue meets the requirement for our utilities," Kontz said. "Each utility has to operate on its own revenues."
NTUA charges for cost of pumps, storing, treating and delivering safe drinking water. Customers should know that pumping water to homes is very costly. Yes, water is free; however, it is the delivery of the water to the home that is reflected on NTUA bills each month."
"We are proposing a rate that we believe will have minimal impact. We are aware and sensitive to the difficulties of the current economic situation that we all facing, especially our customers," Kontz said. "It is our hope that our customers will see this as a continual improvement on our water system. We are doing what we can to improve the system to provide safe and reliable drinking water."
Kontz explained that the Indian Health Service builds the water system for the Navajo Nation. The Navajo Nation then turns over the operation and maintenance to NTUA. NTUA does not receive operating funds from I-H-S or the Navajo Nation.
"These water systems have been built all the way back to the 1960s," Kontz said. "Many of the older portions of the systems are deteriorating."
"For instance, for the past few years - we had an increasing amount of broken pipes and broken main water lines," he added. "Many homes and businesses were without water for hours."
Starting May 16, NTUA will host a series of public information meetings to explain the proposed water/wastewater rate adjustment. Representatives will meet with utility customers at public meetings to explain why NTUA is recommending rate adjustments. All meetings will begin at 5:30 p.m. and end at 7 p.m. The public meetings are as follows -
• May 16 - Kayenta Chapter House.
• May 21 - Fort Defiance Chapter House.
• May 22 - Dilkon Chapter House.
• May 23 - Crownpoint Chapter.
• May 24 - Chinle Chapter House.
• May 30 - Shiprock Chapter House.
According to the NTUA Plan of Operation, the tribal utility enterprise is required to hold one formal public hearing to consider any rate adjustment. These public information meetings are a courtesy and an extension of that requirement, allowing residential and commercial customers to present their views, concerns and questions relating to the rate adjustment proposal.
The information collected at the public meetings and any additional public comment will be presented to the NTUA Management Board at the formal public hearing set for July 9, at the Navajo Nation Museum in Window Rock, Ariz.