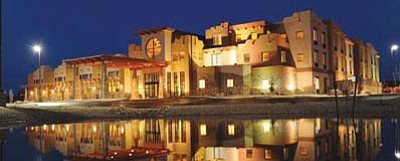 Originally Published: March 28, 2012 9:52 a.m.
MOENKOPI, Ariz.-The Moenkopi Legacy Inn and Suites has received the prestigious designation of Fodor's Choice, one of only three hotels in northeastern Arizona including the exclusive Amangiri Resort, to achieve this distinction.
Fodor's Choice selections recognize the top sights, properties, and experiences that we've found while traveling the world. These places are the "best of the best," providing remarkable experiences in their price range, destination, or category. With the collective expertise of the Fodor's team, including travel editors, more than 700 professional writers, and independent opinionated travelers in our robust Fodors.com community, Fodor's is the globe-trotting friend you can always rely on for top-notch travel advice. For an unforgettable experience every time you travel, look for the orange stars that indicate Fodor's Choice recommendations.
The Moenkopi Legacy Inn & Suites is located across the street from Tuba City, Ariz. at the Western Gateway to Hopi. It is the first hotel built on Hopi tribal land in 50 years and was the inspiration of the Elders of Upper Village of Moenkopi. It was their vision that their village should be a place of welcome and gathering for visitors to the land of the Hopi. The Legacy Inn is a venue for music and cultural events in northern Arizona as well as the only conference center in the region. Native American artists are featured regularly at the hotel with exhibitions and personal presentations.
Information on activities at the hotel can be found at www.ExperienceHopi.com.