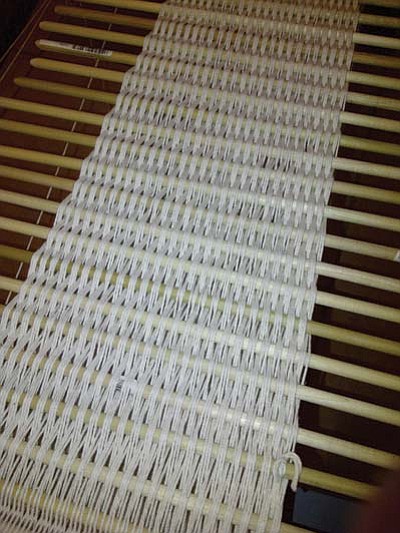 Originally Published: March 14, 2012 10:24 a.m.
HOPI,Ariz.-The Hopitutuqaiki Wokokwewa class held this past winter focused two of its classroom goals on preserving and reviving the ancient Hopi art of big belt weaving techniques, as well as mentoring students on the cultural importance of why this slowly dying art form must be learned and taught to its younger tribal members.
Hopitutuqaiki Art School, which has garnered state attention for its award winning pre-school Hopi language program, has also been noted for its successful visual arts classes in areas of painting, silk-screening, glass-blowing, air-brushing, traditional Hopi basket-making, photography and trapunto quilt-making, and also offers a poetry and creative writing class.
This is the eighth year of operation for Hopitutuqaiki, and while the art school is normally only in operation during the summer months of early June through late August, this special winter big belt weaving class was met with such enthusiastic response that school director Dr. Robert Rhodes will consider offering additional winter classes this year.
Marvin Pooyouma, who is considered a Master Teacher in Hopi weaving, served as this year's winter instructor and there was nothing but praise for Pooyouma from his November class session.
Wyman Navenma, age 34, from First Mesa Polacca village had never taken any type of weaving
"Sadly, there are no weavers at my village at First Mesa, but my brother and nephew had taken a summer weaving class from Marvin at Hopitutuqaiki and it was through their encouragement and enthusiasm, that I really wanted to learn, I also learned more about my own culture from Marvin," said Navenma. "Marvin was so patient with us, talking in both Hopi and English, explaining about the wefts and weave of the big belts, why we use them in our ceremonies, why they are made the way they are."
Navenma's experience with the class made him wish other people could have such a good opportunity.
"I wish that our local Hopi schools could offer some classes like this, or at least some discussion about why our Hopi cultural clothing is made the way it is," said Navenma. "It helps to understand our traditions more. Especially with a master teacher like Marvin, he was so easy to talk with, he helped make corrections if we started weaving it the wrong way, never scolding us, just showing us to be patient and take our time to do it the right way."
This special winter "Wokokwewa" class was held only for 3 weeks every evening with a maximum of 6 students, which allowed for personal one-on-one instruction and attention to really maximize interaction and dialogue on the teaching technique and completion of the actual product.
"I would really recommend taking this class if you're a young man or boy," said Navenma. "There are so few Hopis who can make these big belts, and its important to be able to make your own clothing if you are going to really live out here and if you have men in your family, we really need these items of ceremonial clothing."
New classes for the Hopitutuqaiki Art School will start in early June, but early March or April registration is encourage to allow for tuition costs and processing, especially for the Hopi language pre-school.
A new class schedule will be available starting next week through either the HopiTutuqaiki website at www.hopischool.net or by calling Dr. Robert Rhodes, School facilitator-Director at 928-734-2433.
More like this story