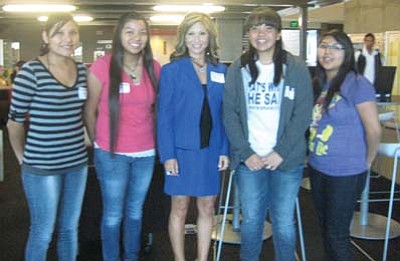 Originally Published: March 14, 2012 10:20 a.m.
PHOENIX, Ariz. - Four Hopi High media students received pointers from professionals while attending the Arizona Latino Media Association Conference at the Arizona State University Cronkite School of Journalism March 2.
The Hopi High students attended press conferences with Arizona State Sen. Jerry Lewis, Olympic gold medalist Henry Cejudo and radio personalities JohnJay and Rich.
Arizona Republic reporter Richard Ruelas served as emcee along with ASU's Anita Luera.
Hopi High journalism students Lexie James and Lauryn Tallas and radio students Josette DeLowe and Janaya Leslie also had a chance to meet with CBS Channel 5 anchor Catherine Anaya.
James, a sophomore, said the conference went well, but it was a much faster pace than was used to working.
"I liked the conference because it was hands on," she said. "I felt like an actual reporter in the press conference. It was a great learning experience."
James said she learned that reporters cannot be scared to ask the tough questions. She added that the pointers helped her, so she will make her stories better and use Associated Press style in the future.
James said Sen. Lewis was the best speaker. She said JohnJay and Rich were funny, but Lewis was more informative.
"The conference would have been better if it was three days instead of one so we could have journalism one day, radio the next and television the third," she said.
James said the conference inspired her to do more with journalism.
"I think I'll do better with political and sports stories," she said.
DeLowe, a senior, was also inspired as she hopes to land an internship with JohnJay and Rich's radio program on 104.7 KISS FM and then take radio in college.
"The conference was awesome and informative," she said.
DeLowe learned to take better notes and to speak louder during stand-up television recordings. She noted that Hopi High came the furthest of any school to attend the conference. She also enjoyed the feeling of attending sessions on a college campus.
"The whole experience of being on the college campus was a little taste of what I should expect next year when I start college," she said.
Leslie, a junior, said the best part of the conference was the session with JohnJay and Rich. She found the session with Sen. Lewis informative as she learned about his opposition to a bill that would allow guns on college campuses.
"It was kind of challenging for me because we had to take good notes and write a story about one of the speakers," she said.
Leslie said Cejudo's speech was good because it was based on his life.
"Some students from other schools were so serious," she said. "It was scary meeting students from other schools, but it was good."
Leslie said the conference gave her a good college experience.