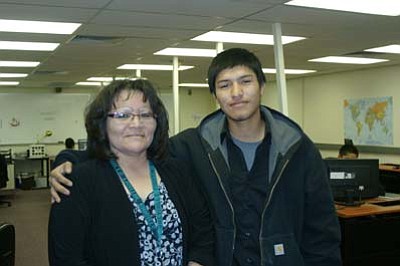 Originally Published: March 14, 2012 10:13 a.m.
TUBA CITY, Ariz. -Definition of heroism conduct especially as exhibited in fulfilling a high purpose.
On March 8, Greyhills Academy High School Senior Craig Pelt administered first aid to his choking teacher, Geneva Begishie and saved her life with his quick thinking and dislodged the food that caused her to choke.
Pelt had made arrangements with his teacher to come to school early before regular classes began to finish his online class assignments. "I just came to school early because I asked my teacher if I could finish my tests, she said to come in at 7 a.m., so I came in a little earlier than that and just waited in the cafeteria." Pelt said.
Begishie said, "I had just seen Craig in the cafeteria and asked him to finish eating breakfast and I will come down to get the tests ready, he said ok and I came down to the classroom." Begishie said she sat down to have a burrito while she waited for Pelt to come down and soon after she began to choke with no one in the classroom. "The first thing I did was run into the door and hit my chest and try to dislodge the food, but that didn't work. Just then Craig walked in; I motioned to him I was choking and to do back blows to my back," Begishie said.
Pelt's quick thinking of giving back blows, he dislodged the food and Begishie said she began to breathe.
An emotional Begishie recollects, "I'm so thankful and its amazing, never imagine he would do something like that because he is a quiet person. He is also very bright." Begishie said she has been helping students the last 15 years at Greyhills Academy High School. "I come in early and stay late if students need me," Begishie said.
Pelt is of the Kinlichii'nii Clan (Red House Clan) and born for Bitahni Clan (Folded Arms Clan) and lives in Tuba City; a young man with a quiet demeanor and says he was only doing what he thought was the right thing to do. Asked if he felt anything during the time his teacher was choking and administering first aid, he said "I was calm the whole time and she (Begishie) said thank you. She said I'm so glad I helped her."
His mother Mary Ann Hanks said, "I am very proud of him for what he did, I talk to him at home to do things for himself. He is very disciplined at home on doing things for us and others."
While the halls of Greyhills Academy echoes with comments of admiration of Pelt's heroism, Chief Executive Officer Beverly Crawford said, "I am really proud of Craig that he saved the life of one our teachers. I was pleased to hear that our students are like that here at Greyhills Academy High School."