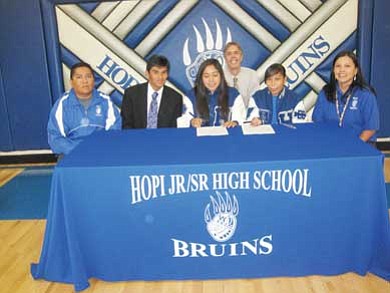 Originally Published: June 5, 2012 10:25 a.m.
POLACCA, Ariz. - Two Hopi High School championship cross country runners have signed to run for Scottsdale Community College (SCC).
Jasmine "Jazz" Humetewa and Lucinda "Simba" Tunogovia will run for SCC next year.
SCC Coach Bo Reed said he has known the dynamic duo since they were little kids because they attended his summer camp in Flagstaff.
"I've had a good relationship with the Hopi team," he said.
Reed noted that signing Humetewa and Tungovia was possible because of their good grades as he noted that they had to qualify academically.
"I expect them to be in our top seven runners. We have a small team so they should make an impact. Coach Laverne Lomakema has done a great job with them," he said.
Reed said he hopes to adjust to meet the runner's needs because Native American runners think differently. He said the terrain in Scottsdale is similar to Hopi, but that Anglo runners think about only the physical and mental while Native runners add in the spiritual.
"We need to connect to that as well," he said.
Reed said the Scottsdale team runs by canals.
"When we were out there the other day, we were visited by a hawk, so that's good," he said.
Reed has only been on the job 12 weeks at Scottsdale, so he's rebuilding the program.
"We're rising fast," he said.
Humetewa said she's proud of herself because she has wanted to run on the college level since she won her first state title with Hopi High four years ago.
"I want to make the best of it, so I'll work hard to improve," she said.
Humetewa said she is happy because she has family living close to SCC.
"I also like the coach and the campus," she said.
Humetewa is ecstatic that a Hopi High teammate will join her there.
"I'm going to another school. It's not the rez, so it will be different," she said.
Tungovia is also proud of herself and excited.
"It's hard to explain, but I'm happy," she said. "My goal is to do well and show improvement. I want to be at the top."
Like her teammate, she has family living close to SCC.
"That way I won't have far to travel," she said. "It's an in-state school before I go out of state for my (four year) college experience."
Tungovia said having her Hopi High teammate there will give her motivation.
"I'm glad I'll be close to somebody," she said. "SCC seems like just another school (than Hopi High), but at a higher level."
Coach Lomakema said she was glad that both runners received scholarships because they worked so hard for the past four years.
"This shows that hard work pays off," she said. "I wish them the best for the future and I hope that the running program has given them a stepping stone for the future."
Hopi High girls have won 18 straight state championships and five in a row.