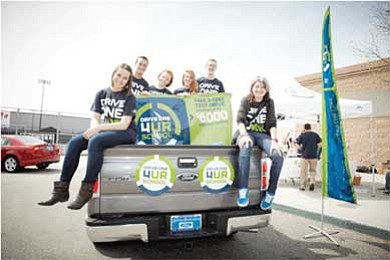 Originally Published: June 5, 2012 10:58 a.m.
PAGE, Ariz. - In April, Ford and its dealers partnered in a special challenge to raise $1 million for local high school programs through more than 300 Drive One 4 UR School events throughout the U.S. Last week, both announced that based on initial reports that are stillcoming in, they expect the $1 million goal will be achieved.
Lake Powell Ford and Page High School were part of the $1 million Drive One 4 UR School challenge. The event, held at Page High School in late April, raised approximately $3,200 for Page High School. The monies will be used to help fill the gaps in extracurricular activities due to recent budget cuts.
"We're very pleased to be able to raise this money for Page High School through Ford's Drive One 4 UR School program," said Dan Reddington, GM of Lake Powell Ford. "This money will go a long way to helping the students benefit from extracurricular activities, including athletics."
Since its inception in 2007, the Drive One 4 UR School initiative has raised at least $11 million and provides up to $6,000 per event through test drives of Ford products. More than 1,150 dealers have hosted more than 2,800 events, partnering with their local high schools to participate in the program. Funds raised can be applied to any area where the school needs support - athletics, music, even to fix damages from natural disasters.
"We are excited to congratulate the schools, dealers and communities who worked so hard to reach this challenging goal in April," said Tracy Magee, Ford Experiential Marketing manager. "The Drive One 4 UR School program was developed as a fun, engaging way to help high schools raise and apply money where they need it, and we realized that if we really focused our efforts in April, we could make a difference by raising money to protect important educational programs and services.