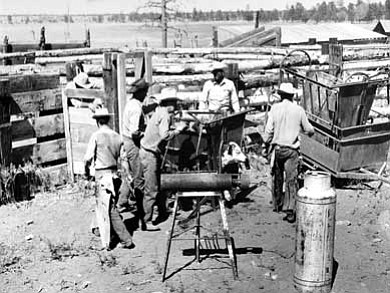 Originally Published: June 5, 2012 10:42 a.m.
WINSLOW, Ariz. - The Winslow Centennial Committee and Winslow Historical Society continue celebrating the city's history with "Cowboys and Campfires: A History of Ranching in Northern Arizona." The program will be presented 6-8 p.m. on Saturday outdoors in the Eagles Pavilion, located behind the Winslow Visitors Center/Hubbell Trading Post at 523 W. Second St.
Imagine a night outside the bunk house, when ranching stories were handed down from generation to generation around the campfire, also known as the "liar's fire." Presenters will recreate a "cow camp" complete with campfire and chuck wagon, the latter featuring free biscuits and coffee courtesy of Leo Leonard, well-known Dutch oven chef and "camp cookie."
Cattle were one of Arizona's "4 C's" (along with cotton, copper, and citrus), and former area rancher David Hartman will provide an overview of the history and economic importance of this essential industry in northern Arizona from statehood to the present. Raymond Branch, Frances McCauley Perkins, and Kim O'Haco McReynolds will then share their families' ranching histories, along with stories of other folks who had an impact in their respective locations.
Once they are done, any and all attendees are invited to share their own cowboy and ranching stories of the area. For example, "Heck" Marley's daughter, Mary Marley Pisel, is planning to attend and share her version of the Marley family story. They've also uncovered documents clarifying this early 1900s saga, which was so noteworthy that Zane Gray used its theme for his book, Sunset Pass. Participants are encouraged to stay as long as they want.
This event is one of the Second Saturdays in Winslow, a year-long series of programs that explore Winslow's diverse history in celebration of the Arizona State Centennial on Feb. 14. Find the museum on Facebook or go to www.OldTrailsMuseum.org for the latest exhibit and program information.