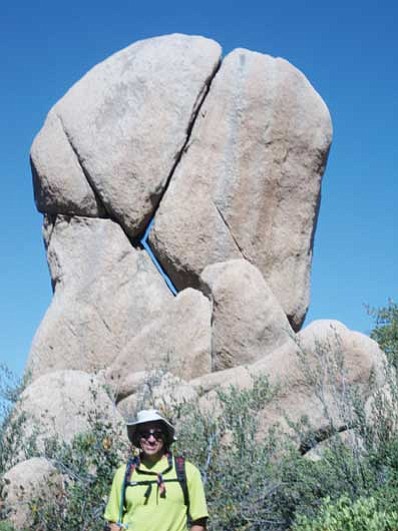 Originally Published: July 17, 2012 10:48 a.m.
PRESCOTT, Ariz. - The Prescott area offers a wide array of summer hikes, although with the recent burst of heat it's better to start early to avoid the heat of the day. Some of the cooler summer hikes are up on Mingus Mountain, which can go up to about 7,800 feet. The Mescal Gulch Trail is one Mingus Mountain hike starting at 6,200 and going up to 7,000 feet. Wild flowers include larkspur, blue flax and Mariposa lily.
This hike is four miles one way or eight miles round trip. The Prescott Hiking Club recently did a Bug Hollow to Mescal trail loop for about a six-mile hike. Both these hikes would be considered moderate.
Ponderosa, douglas fir and maples are among the tall trees providing a lot of shade along the way.
Directions - From Prescott, take Highway 89 north and turn right onto Highway 89A. Travel 21.7 miles and park just a half mile past milepost 339 on either side of the highway.
Resource book - The Best of Prescott Trails by Pat Baillie
Little Granite Mountain Trail
The Little Granite Mountain Trail is another cool Prescott area mountain hike.
This is 4.5 miles one way or nine miles roundtrip. Hikers will gain about 800 feet in elevation as they go from 5,800 to about 6,600.
The Prescott Hiking Club, during a recent outing, added a trek to the saddle, which added about another 1,000 feet in elevation and took the hikers pretty close to the top. It meant the mileage at the end of the day topped out at 11.7 miles, but this is still considered a moderate hike.
Granite Mountain tops out at about 7,626 feet. Granite Mountain is part of the 9,729 acres of the Granite Mountain Wilderness area. This is mostly pinyon-juniper pine woodlands. This area is known for its boulders, woodlands and desert plants.
Hikers have different definitions for slow, moderate and strenuous hikes, so each hiker has to figure what is best for them. This hike demanded a lot of water.
Bill and Chris Maxwell led the hike starting at the Metate Parking lot where there is a restroom, drinking water and a $2 fee pay station. This hike went through trails 40, 37 and 261 before going up from Blair Pass.
From the stopping point just past the saddle, Granite Basin Lake below looks like a swimming pool.
The trail has fantastic views, especially of Skull Valley, but the hoodoo rock formations are also breathtaking. Polar Bear rock is among the highlights.
Flowers greet the hikers almost at the beginning of the trail before the uphill climb begins. Songbirds and lizards are also plentiful along this trail. Century plants are blooming in various bright colors.
Directions - From the courthouse in downtown Prescott, drive north on Montezuma Street for 1.6 miles to a four way intersection. Continue ahead onto Iron Springs Road for 6.2 miles to a trailhead turnout on the right.
Resource book - The Best of Prescott Trails by Pat Baillie