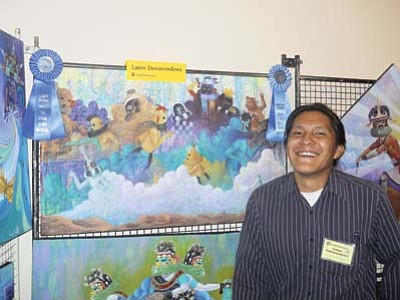 Originally Published: July 10, 2012 2:41 p.m.
FLAGSTAFF, Ariz.- There are first times for everything and Lance Dawavendewa, Maaswungwa clan from Lower Moencopi in Tuba City proved that the "first time is a charm" when it came to a first time art entry which took the top award for 2012's Best of Show at the Museum of Northern Arizona's Annual Hopi Show.
Dawavendewa's work took not just the Best of Show but he also picked up the coveted MNA Spirit Award. Both entries were acrylic paint, one on canvas and one on a wood panel, each measuring about 24 x 32 inches long.
Dawavendewa's Best of Show painting is titled "Warwarkatsinam" and his MNA Spirit Award winner was titled "Kokoyemsim."
The Kokoyemsim painting sold on Saturday to one of his aunts, making the weekend art win along with a serious sale, all the sweeter.
Dawavendewa, who is the son of award winning painter and artist, Richard Dawavendewa, said he painted both of these entries, specifically for the Hopi Show.
"I could just visualize these paintings in my head, these particular katsinam came to our village to dance and I could just picture them running through the clouds," he said. "My dad kept encouraging me to enter to this show, I never had before, but he has been a real influence in my artwork, he was my original teacher at home and in high school. I have been to school in Santa Fe at the Institute of American Indian Art and that atmosphere has also had some serious influence on my work too."
Young Dawavendewa also has a heavy community participation streak in his blood as well and last year contributed two of his original paintings to the new hospital in Tuba City along with numerous other well-known and new, up and coming artists for all three floors of the public lobbies that service Hopis, Navajos and other tribal members who live in the Tuba City and Hopi areas.
"My paintings at the hospital were a way for me to give back in gratitude for all the success and encouragement I have had with my art," Dawavendewa said. "If I can bring a little bit of beauty and positive energy to patients who are waiting to see a doctor, I feel like that's the least I can do to assist in their healing."
Dawavendewa said he hopes to be able to be an artist full time as a career choice and is working towards entering other shows in the near future, including the world renowned, Santa Fe Indian Market held in August of every year.
Other major First Place and Division show winners at the 2012 Hopi Show this year, include:
Baskets: Coil, Poota, Sifters: Wilmetta Kayquoptewa-Whirl Basket, Dolores Coochyamptewa-Sifter with Warrior Twin Katsina Face and Beatrice Dawahoya-Snow Girl and Snow Clouds;
Cultural Arts: Richard Honyouti-Cedar Chest with Hopi Cloud designs,
Fine Arts: Lance Dawavendewa-Warwarkatsinam painting,
Jewelry: Bennett Adam Kagenvaema-Home Dancer Katsina Bolo,
Best of Class: Katsina Doll: William Talashoma-Kuwanhuuhuwa Katsina carving,
Katsina Dolls-Traditional: Ed Seechoma-Palhikwmana-Water Maiden;
Katsina Dolls-Contemporary: William S. Talashoma- Kuwanhuuhuwa Katsina carving;
Katsina Sculpture: Brendan Kayquoptewa-Salako Sculpture;
Pottery: Lydia Mahle-Vase with traditional designs;
Textiles-Traditional Weaving: Akema Honyumptewa -Sotsapngonkwewa; and
Textiles-Quilts: Dianna L. Shebala -Blue Bird Quilt.
Tourists, Hopis and other visitors to the museum show over the weekend were also treated to several live performances, lectures and art participation events. Donald Dawahongnewa and Tiffany Bahnimptewa provided traditional music. A special Hopi language presentation by given by Anita Poleahla.
The Clown Dance was performed by the locally renowned "Nuvatukya'ovi Sinom Dance Group." Dorothy and Emerson Ami gave a series of pottery demonstrations.
Casper and the Mighty 602 Band gave musical performances that brought down the house, on both Saturday and Sunday with a separate solo performance by Ed Kabotie on both flute and acoustic guitar.
Alice Dashee gave a "Corn is Life" presentation with demonstrations on "piki-making", weaving, basket making and jewelry design demonstrations on the museum grounds. There was also a live radio remote broadcast by Hopi's own KUYI 88.1 FM station which reached all areas of northern Arizona including Hopi's own reservation areas.