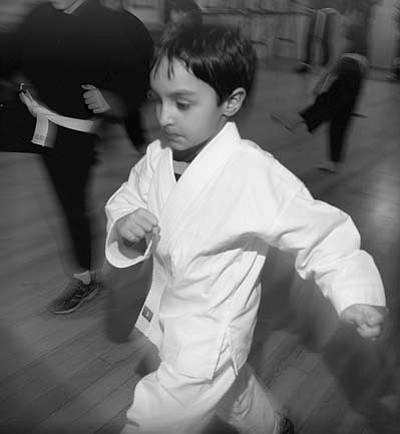 Originally Published: January 25, 2012 10:56 a.m.
WINSLOW Ariz. - A martial arts demonstration was put on by the "Family Self Defense School," on Jan. 18. The event was held in the restored Hubble Trading Post and sponsored by the Winslow Arts Council. Approximately 60 people attended. Mark Hawley is the director of the school, and put the event on by showcasing many of his students.
The evening started with warm-up exercises, demonstrating forms and cardio-style basic blocking, punching and kicking methods. Then students paired up and practiced a variety of defensive moves. Students' ages ranged from 7 to 60 years, and included girls as well as boys. The director and students all wore appropriate uniforms with their assigned (color) belt.
Hawley can be reached at (928) 830-5413 and provides classes in Winslow and Holbrook.
More like this story