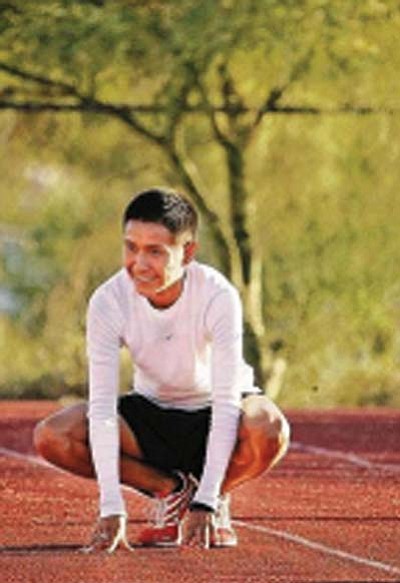 Originally Published: January 18, 2012 2:20 p.m.
TUCSON, Ariz. - Nideiltihi Native Elite Runners, Inc. (NNER)-assisted elite runner Craig Curley, from Ganado, Ariz., competed in the 2012 Olympic Team Marathon Trials in Houston, Texas. Three men and three women will qualify from the trials to represent the USA in the marathon at the 2012 Olympic Games to be held in London during July-August 2012.
Curley has already met the 2012 Olympic Marathon Trials qualifying "A standard" with 1:04:14 at the USA Half Marathon Championships in January 2010. A runner who has already met the A standard and places in the top three finishers at the Olympic Trials, will make the Olympic team.
Originally from Ganado, Ariz., Curley lives and trains in Tucson, Ariz. He has been following a rigorous training plan under the guidance of Pima Community College Head cross country and track, Coach Greg Wenneborg, and strategically raced in the USA 20k Championships, the MedTronic Twin City 10 Miler and the Las Vegas Half Marathon.
NNER has been pleased to support Craig in his efforts to train and race at the elite level.
"These people have been unwavering sources of encouragement and guidance not only in my own life as I work toward competing in the U.S. Olympic Trials, but in the lives of the communities and people they serve. This alone has challenged me to support the endeavors and intentions of Native communities and Native youth with conviction, humility, and a deep-seeded awareness of the challenges Native people face in contemporary society. I would like to extend a heart-felt thanks to NNER for aiding in the pursuit of my athletic aims and efforts; my dream of competing in the Olympic Games would not have been alive today if it were not for their commitment to Native athletics and our youth," said Curley.
NNER is a volunteer-driven nonprofit organization formed for charitable and educational purposes at the local and national level. NNER fosters Native American Indian distance runners in the Four Corner's States, to represent USA in national road and track competitions; encourages wellness, relevant life skills, and supporting elite youth in post season national competition while integrating traditions, culture and Native language.
To learn more, visit www.nativerunners.org. To learn more about NNER, and/or donate money, contact Melody Varner at (928) 853-3374 or email mvarner@nativerunners.org.