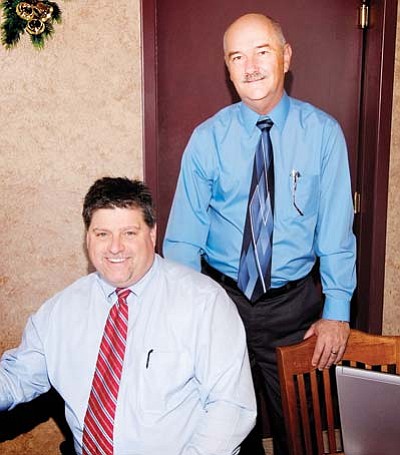 Originally Published: January 11, 2012 2:25 p.m.
WINSLOW, Ariz. - On Jan. 4, the Winslow Unified School District Board approved changes to the school schedule beginning in school year 2012. The new schedule is called "Intersession Calendar." The schedule is modeled after the Vail School District near Tucson, which has been the best performing school district in Arizona for many years. The vote to approve the new schedule was unanimous with all members present.
Teachers and administrators testified in supporting the new schedule since it has the latent ability to help at-risk students. At the same time, Intersession gives teachers a number of advantages in managing their time and energy.
District Superintendent Doug Watson and Assistant Superintendant Lance Heister were the leaders in shaping the concept for Winslow's use and promoting it throughout the city.
The school schedule for next year is called an "Intersession Calendar" or "Balanced Calendar" and has 180 days of school, the same as now. But school starts two weeks earlier with the new schedule, on approximately Aug. 1. Nine weeks after school begins there will occur a two week break, with the first week being dedicated to teacher training and support for struggling students. The student support program is an optional student program of intervention, for those who have attendance or learning issues identified after the first nine weeks. Attendance or learning obstacles can be addressed at this time and can get the student caught up, helping to eliminate promotion or credit problems. For students not needing to catch up, the first week of break will have a variety of creative free seminars available at school. The spring school schedule will have the same pattern as the fall. After nine weeks, there will be a two week break just like the fall break and the offerings will be the same. The second week of the two week breaks, the school will be closed.
The reasons for the changed school schedule are as follows -
• Better spacing of breaks giving students and staff an earlier rest in the school session.
• More timely intervention, keeping kids caught up.
• The help students require needs to be accomplished before summer vacation, at which time it's too late.
• Helps students from giving up hope if they are behind.
• The summer vacation is shortened to eight weeks from 10 so there is less knowledge forgotten over summer. ( It's been documented that students begin forgetting faster after six weeks of summer vacation.)
The new school year schedule would start on Aug. 1 and fall break occurring Oct. 1-12, Thanksgiving would fall on Nov. 21-23 with Christmas Break on Dec. 24 to Jan. 4. Spring break would be on March 18-29 and school would end on May 30, 2013.
For more information call the Winslow Unified School District at (928) 288-8100.