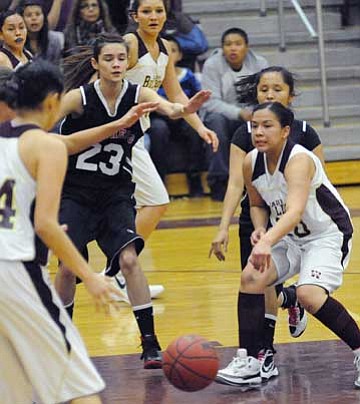 Originally Published: January 11, 2012 3:07 p.m.
WINSLOW, Ariz. - The Winslow Lady Bulldogs blitzed the Coconino Lady Panthers 53-32 in Winslow on Jan. 10 but the Winslow boys lost to Coconino 52-35 in the nightcap. Neither game was particularly close.
The Winslow Lady Bulldogs defeated the Coconino Lady Panthers 53-32 in the game on Jan. 10. The win left the Lady Bulldogs with a magnificent record of 13-2 for the season.
Winslow led 17-8 after the first quarter of play and 35-13 at the intermission. The margin was a commanding 50-15 at the end of the third quarter. Only after the contest was clearly going to the Lady Bulldogs did Coconino make any progress, scoring more in the fourth quarter than they had in the other three combined.
Taramika Lee was the only player in double figures for the victors with 12 points for Winslow. Jasmine Golding was high scorer for Coconino and the game with 13 points.
In the boys' game the Coconino Panthers defeated the Winslow Bulldogs 52-35 on Tuesday. The loss continued a losing streak for Winslow and left the Bulldogs with a record of 8-9 for the season and 0-4 since the beginning of the 2012 portion of the season.
Coconino had a double-digit 15-4 lead after the first period of play and a commanding 29-15 advantage at the half. The margin was 45-28 after three quarters and remained at that distance in the final period.
Andrew Bonner led all scorers with 18 points for the Panthers. Josh Ingram was also in double figures for Coconino with 12 points. Tyler Williams led Winslow with 11 points.
The Bulldogs and Lady Bulldogs were to remain at home for games against Window Rock on Jan. 17, Blue Ridge on Jan. 19 and Flagstaff on Jan. 20.
More like this story