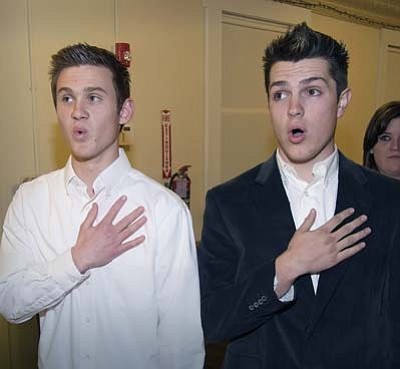 Originally Published: February 23, 2012 9:39 a.m.
WINSLOW, Ariz. - Last Tuesday at the Hubble-Chamber Building we celebrated Arizona's 100 birthday with a party. The main focus of the party was pseudo-radio news reenactment of the moment in 1912 Arizona becoming a state.
The radio news was announced by Winslow High School Speech students, Katelyn Parrish, Emmett Foster, Brittany Fischer, Josh Cirre and Laura Smith. The news announced was about things that were happening in the United States on Feb. 14 1912 and special reports from correspondents around the country, commenting on the statehood of Arizona. As a special circumstance, Loy Engelhard really did broadcast the reenacted radio news on KINO Radio 1230 as it was being done by WHS students at the party. Prescott Winslow was the writer and director of the radio performance. Pres is a Winslow resident specializing in career counseling at the high school level. The birthday party was a project of the Winslow Old Trails Museum, directed by Ann-Mary Lutzik and the Winslow Historical Society
The event was opened by the Pledge of Allegiance and singing of the Star Spangled Banner by Emmitt Foster and Josh Cirre. Winslow Library Manager Docia Blalock, presented a history trivia game where the answers were only available at the Library; interesting. An ensemble of Winslow High School Band, lead by Tanya Simmons played Happy Birthday to the state. There were also door prizes and two birthday cakes rounding out the celebration. About 100 people attended the 100th Arizona Birthday bash, many commenting on how good she looks for being 100-years-old.