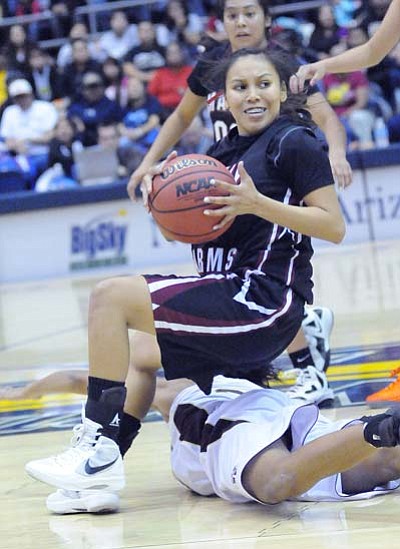 Originally Published: February 23, 2012 9:53 a.m.
The Winslow Lady Bulldogs defeated the Many Farms Lady Lobos 45-41 in the Division III State Tournament played in Flagstaff on Saturday. The win improved Winslow's record to 24-5 and set them up to meet Valley Christian, a 58-43 winner over Round Valley on Tuesday at Prescott. Many Farms ended its season with a brilliant record of 27-6. The Lady Lobos had defeated Monument Valley 57-41 on Wednesday to reach the second round. Winslow had a bye to the second round.
Many Farms had a narrow 9-7 lead after the first quarter but Winslow came back to build a 23-15 advantage at the half. The lead changed hands again in the third quarter as the Lady Lobos went up by two 33-31.
Winslow trailed by four points in the closing seconds of the game but a key turnover on  a traveling call and some clutch shooting gave the Lady Bulldogs a two point advantage with less than two seconds left. A pair of free throws accounted for the final points.
 Free throw shooting was vital for the Lady Bulldogs as they converted 14 of 19 attempts to just six of 14 for the Lady Lobos. Mattea Begaii was five for six in the game and three for three in the fourth quarter. Marcella Joe was also five for six for the game and four for four in the critical final period.
Mattea Begaii led Winslow with 15 points and was tied with Briana Clah of Many Farms for game high honors. Corey Nez was also in double figures for Winslow with 11 points. No other player was in double figures.
Many Farms 9 6 18  8 - 41
Winslow        7 16 8 13 - 45
Many Farms: Danekka Yazzie 5, Alicia Begay 7, Briana Clah 15, Rhonda Lee 5 and P. James 9.
Winslow: Marcella Joe 5, Corey Nez 11, Mattea Begaii 15, Halle Hayes 5, Shandiin Armao 4 and Kiersten Nezzie 5.