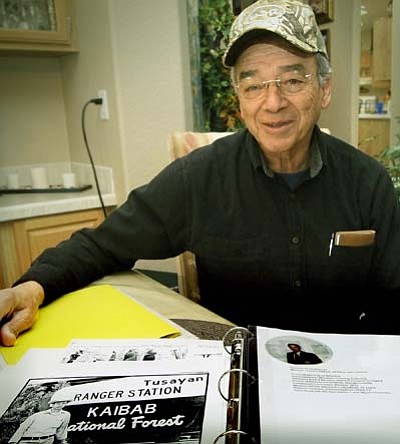 Originally Published: February 23, 2012 9:36 a.m.
WINSLOW, Ariz.-Thomas Chacon has had an interesting career, beginning with being raised in Winslow. Chacon went to school in Winslow from elementary through high school. His father was a "car man" for the railroad and chose to stay here (at a lesser position) when he was supposed to transfer to California. I guess that tells you how much Chacon's father thought of living here.
Chacon lived in Winslow from about 1940 to 1958 before leaving to work in the Forest Service in the neighboring areas and pursue a Forestry degree from Northern Arizona University. Chacon worked in the Forest Service for 34 years and was assigned to work in Kaibab, Apache-Sitgreaves, Prescott, Carson, Coconino and Sitgreaves National Forests. Some of his most challenging assignments were in the Carson National Forest where there were many activists opposed the Forest Service management of what were traditionally free ranges.
Stock and grazing limits, ear tagging animals and sustainable management practices by government was resisted by the locals and Chacon had to do a job of law enforcement and diplomacy as well as forest management. Earlier he was interested in a career in teaching but switched to Forestry after seeing so much of the great natural world in Arizona and New Mexico.
Chacon moved back to Winslow in 2002 after his Forest Service and other career opportunities were completed. He has been married to Linda since 1967 and has many family members here.
Some of Chacon's other accomplishments include: Commissioner Winslow Housing Authority, Advisory Board Member NACOG Council on Aging, Board of Directors NARBHAA Navajo County, Centennial Committee 2012, BPOE Winslow Lodge No. 536 for 37 years.
Chacon has been on the City Council for the past four years and is running for mayor at the next election. He is settled in Winslow, which he always considered his home, and his main interest is in public service at this point in his life. Tom and Linda are loving parents, grandparents and are gracious hosts.