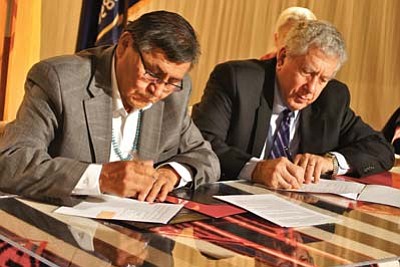 Originally Published: February 8, 2012 9:46 a.m.
WINDOW ROCK, Ariz. - Navajo Nation President Ben Shelly signed a memorandum of understanding (MOU) with Lawrence Livermore National Laboratory initiating a gateway for future development of Navajo energy.
The non-binding MOU was signed as part of a signing ceremony held at the Navajo Nation Museum Auditorium, in which about 60 people attended on Feb. 3.
"With the labs help, we will have a better picture of what technologies are best for our resources," President Shelly said.
The MOU outlines collaboration between the two parties, but President Shelly said the national lab will help the Navajo Nation complete a comprehensive energy assessment of the Nation's resources.
The Navajo Nation has large deposits of coal and had a large land mass suitable for renewable energy development. The Shelly-Jim administration is currently developing a Navajo Nation Energy Policy, which is expected to be presented to the Navajo Nation Council in April.
Ronald Cochran, LLNL executive officer, agreed with Shelly's outlook.
"We hope to be strong partners with that energy assessment," Cochran said.
The five-page MOU states 20 different energy topics the pair may discuss to "pursue opportunities and collaborate" from clean coal technologies, renewable energy to power plant design.
However, President Shelly recognizes that the MOU is just a beginning for energy development.
"It is my sincere hope that this partnership will grow and strengthen from day to day and eventually we may inspire to provide a blueprint for many others to follow," the President added.
Among the attendees were 23 students from Saint Michael Indian School and Tseehotsooi Middle School.
"These students make me proud and make me want to do my best to continue pushing initiatives in infrastructure, development, education, and job creation," President Shelly said.
Steve Grey, program manager at LLNL, urged the students to continue with their education.
"Look at all of you young people, do you know that a lot of these educated people," Grey said pointing to the delegation of Navajo leaders sitting on stage, "We came from the rez."
Saint Michael Indian School recently installed 72 solar panels, which generates 100 kilowatts of electricity, which is in conjunction with a wind turbine and solar water heating system.
Grey urged the students to recognize the importance of the MOU being signed today.
"In 10 to 15 years with what you see today, you're going to realize the impact this has to the Navajo Nation and the people," he said.
President Shelly asked for cooperation from all the attendees to think of the future and work together.
"I understand, I can't do this alone, but I need you and everyone here to think growth and success starts with commitment and dedication," President Shelly said.
To mark the occasion, President Shelly said he is going to hand carry a copy of the MOU to Sen. Jeff Bingaman who is the chairman of the Senate Energy and Natural Resources Committee.
Sen. Bingaman has been an advocate for energy development in Indian Country.
"When I go to Washington, I am going to hand carry this MOU and deliver it to Sen. Bingaman," President Shelly said.