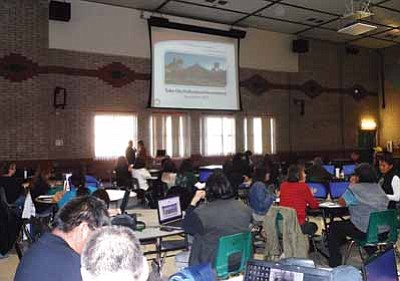 Originally Published: December 4, 2012 11:47 a.m.
TUBA CITY, Ariz. - Tuba City Unified School District (TCUSD) is partnering with Stanford University on a special technology based program called EPGY (Educated Program for Gifted Youth) which will use computers for long distance learning.
EPGY provides high ability students of all ages with an "individualized education experience" optimized in both student pace and content.
Through EPGY, TCUSD students will have access to courses in a variety of subjects at all levels from kindergarten to 12th grade.
More than 50,000 students from over 35 countries have benefitted from the EPGY program since its initial inception at Stanford.
Last week, staff members gathered for an afternoon session by Dr. Harold G. Begay, TCUSD superintenden, and an instructional power point session presented by EPGY Stanford staffers James Fredericks and Jeannette Cook on how to work for maximum success for student achievement using the system.
The afternoon session explained how teachers can use technology to simulate one-on-one tutoring to address the learning speed of each student.
The presenters also showed TCUSD teachers how to provide "tutorial hints" within the prescribed exercises for remediation and also how to provide immediate assessment and feedback to students to help them with mastering their exercises.
The EPGY program is web-based and uses all computer platforms. It is available 24 hours a day, seven days per week. Using multi-media instructional lessons which establish and reinforce conceptual knowledge, success is easier to track and correct, with students working on one problem or question at a time. The continual embedded assessment with immediate feedback also correlates with Arizona state standards and common core educational standards established nationwide.
With each TCUSD student establishing their "own rate of speed for success," the computer then becomes their intelligent design tool rather than just a simple medium for graphic presentation. There is a second chance at each exercise with a hint at the correct and appropriate answer. Students are also encouraged to "listen and read" more carefully to solve problems.
TCUSD is utilizing the EPGY program for math and language arts coursework.
Samples of the math program for kindergarten used "math races" at the beginning of each work session. The goal of the math race is to work on speed and accuracy. Students race against themselves with final score success based on their prior performance. Each student selects a "race-car" or a "swimmer." when the students answer a question, they click "enter" and the box will flash either green for correct answer or red for an incorrect answer which slows the race-car or swimmer down.
The math program develops and reviews concepts and skills needed for first year algebra. The first year algebra program includes equations, inequalities, exponents, polynomials, rational and radical expressions and other more complex algebraic concepts.
The language arts and writing EPGY program is a rigorous program that meets, and in most cases, exceeds standards for grades two through six. Concepts used in the TCUSD language arts program include parts of speech, sentence structure, sentence composition, paragraphs and mechanics and word usage.
Though each student is encouraged to work independently, the need for teacher support is always emphasized. Teachers are available to coach and motivate their students to do their best, letting students know their "work is meaningful" and reviewing their work as data to help the student plan their next steps in instruction.
EPGY is much different than many other technology education REZ-based programs in that is offers a highly sophisticated system of individualization and differentiation. It allows students to make errors and then uses those errors to help drive instruction the way a personal "tutor" might help a student. The data driven results help the student to approach more difficult coursework and helps inform the teacher on what progress and materials the student needs to further develop their skills. With on-going support to both the teacher and student from Stanford University, the program is personal and highly motivating.
The program features progress reports for both students and parents. This way, parents can track their studentss progress by visiting the EPGY website and can revue their students' weekly progress.
Parents are encouraged to learn how to use the on-line program. Information on the website can also be accessed at home during non-school hours.
More information about the EPGY program at the Tuba City District is available from Dr. Harold G. Begay at hgbegay@tcusd.org.