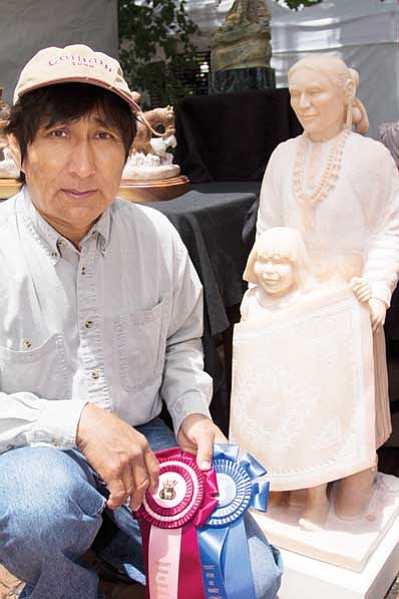 Originally Published: August 21, 2012 10:16 a.m.
PRESCOTT, Ariz. - Navajo artisans were among the top winners at the 15th annual Prescott Indian Art Market this year.
Tim Washburn, a Navajo from Kirtland, N.M., was the most impressive by taking home Best of Show and first place for sculpture.
The other top artisan winners were:
Two Dimensional art: First place, Baje Whitethorne Sr., Navajo; second, Hyrum Joe, Navajo; third place, Karen Clarkson, Choctaw.
Ceramics: First place, Carlos Laate, Zuni; Aaron Cajero, Jemez Pueblo; third, Patricia Daubs, Jemez Pueblo.
Jewelry: First place, Ernie Lister, Navajo; second, Jimmie Harrison, Navajo; third, Allison Lee, Navajo;
Traditional arts: First place, Mona Laughing, Navajo; second place, Florence Manygoats, Navajo; third place, Mona Laughing, Navajo.
Judges Choice: Duran Gaspar, Zuni; second, Gilmore Scott, Navajo; Mike Yatsayte, Zuni.
Sculpture: First place, Tim Washburn, Navajo; second, Adrian Wall, Jemez Pueblo; third, Baje Whitethorne Sr., Navajo.
Washburn won Best of Show for the second straight year.
"It doesn't get old. It shows that hard work and effort pays off," he said.
Washburn has been working this craft for more than 30 years; it's all he's known since he left high school. That's where his craft began when he got together with friends Orland Joe and Alvin Marshall.
"Orland gave me a stone and said try it. We just starting carving together," he said.
Washburn's winning stone was created from Portuguese pink marble. The sculpture has a mother showing her daughter how to weave. This piece took two years, but he worked on many other pieces during this period as well. He takes pride that all of his stones are natural.
His advice to young aspiring artists is to listen to their parents and grandparents.
"They are the best people to listen to so work hard," he said.
Washburn said sculpture was a calling for him.
"It chose me. I never took any classes," he said.
For more information contact Washburn at timwashburn05@gmail.com
Baje Whitethorne Sr. has won more awards than he can count during the past several decades, but winning the top award in the two dimensional division meant a lot to him because it was his first time for oil painting.
It took him four months to paint this stunningly bright sunset with a hogan in the snow.
About 20 of his oil paintings were recently on display at the Gallup Cultural Center. He has usually worked with watercolors and acrylics.
"I hadn't done this in years. The fumes bothered me," he said.
Whitethorne started studying art in college, but found it wasn't for him because he wasn't prepared. He urges students today to start preparing for college early by doing well in school.
"If they don't they will struggle," he said.
Whitethorne said students make it easier on themselves if they take education seriously at a young age.
Whitethorne has a show coming up Sept. 1 at the Coconino Center for the Arts in Flagstaff, but a lot of his pursuits are to help art students. The Reunion of the Masters, during the Gallup Ceremonial, will send 25 percent of the proceeds for scholarships for students in K-12.
Schools in the Four Corners states - Arizona, New Mexico, Utah and Colorado - will be able to apply for funds in October. They raise at least $25,000 per year with 68 schools participating last year.
Whitethorne also works with artists in the non-profit Art of the People.org
"This is my way of giving back to the community," he said. This is an artist in residency program."
Not all of his projects involve art. Whitethorne has also been involved in developing a for-profit as part of the Shonto Economic Development project. This is mainly a solar project
"I want kids to learn not to be dependent," he said.
Whitethorne works out of his studio in Flagstaff. For more information, telephone him at (928) 526-0063.
Ernie Lister was equally proud of his top prize in the jewelry category. He works out of the Hotel Trading Post at St. Michael's Hotel on the square in Prescott.
Lister has been creating jewelry since 1968. He took jewelry in school, but gives most of the credit for his success to medicineman John Burnside.
"My jewelry comes from the art of hammering. Some call it whitesmithing," he said.
Lister's winning piece was a necklace that has Mediterran coral. It has three major dragonfly style crosses and a ring on top of the pendants. The ring holds the necklace in place and includes gem quality turquoise.
"Certain art forms are disappearing. This straddles both cultures," he said.
Lister's jewelry has made its way to Japan, but those who want to get a hold of it closer to home can telephone him at (928) 778-7276.
Mona Laughing said winning first place for her weaving shows she's better than everybody else. She has been weaving for 40 years and credits her mother Elsie Mark with teaching her the craft.
"I was taking care of sheep. It seemed natural to weave because I was taking care of sheep," she said.
Laughing's weaving style is known as Germantown. This particular weave has a black and grey background with a bit of white. The main design is gold and red.
Her advice to aspiring artists is to be patient. This weaving, which is three feet by three feet, took her more than three months.
Another one of Laughing's weavings won third place. This weaving was in the Crystal and Wide Ruins design.
For more information, contact Laughing at laughingweavers@yahoo.com
Carlos Laate took first in ceramics for his traditional clay pots. These handmade Zuni designs are rich in colors with brown, red, black and white.
"I learned from my aunt and grandma. They were both potters and teachers," she said.
Laate has been working on these traditional Zuni pots for 23 years. He said winning first place was great. His advice for young potters is to stay focused, keep learning and keep up the pottery traditions.
"I like pottery better than jewelry and fetishes," he said. "I've done the other types, but I like clay better."
Laate's work can be found in Santa Fe or Albuquerque or telephone him at (505) 495-1214.