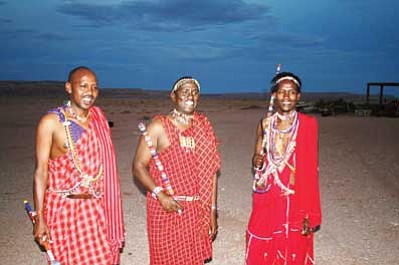 Originally Published: August 21, 2012 10 a.m.
CAMERON, Ariz. - "The lion clawed me and threw me far!" said John Kamanga, as he showed off his scar to the small, yet amazed crowd.
Kamanga, along with members from the Maasai community of Kenya, Africa is in Navajoland. The trio is here to develop the Maasai heritage program back in Kenya, a cultural exchange program designed to build upon and improve the Maasai community.
Kamanga's group came to see how the Navajo celebrate their traditions and culture. Their goal is to learn from the local Native community, to learn from and share with the Navajo. See what they are interested in. Kamanga's long term goal in Kenya is to develop a museum, to see how aboriginal people live in other parts of the world. There were many similarities in lifestyle and landscape, as well as sheep, cows, and donkeys. As in his country, not enough rain comes survival.
"Many things are similar to how we do things back home," he said. "In the two days we've been here people ask us if we live in regular houses. Yes we do, just as Navajos do not live in teepees."
The Hogan, is similar to the Maasai houses. Alongside education, there are also the never-ending stereotypes.
"The African government is constantly pushing things to end the Maasai culture" said Kamanga. "The government system is constantly attempting to end the lifestyle as it exists."
There are currently 42 tribes. The clan system consists of nine Maasai clans. Within the clans, socio groups determine status, based on ages of the clan members. Other members Joshua Kiringal and Michael Tiampata encouraged the youth in the audience to take care of what is around you.
"Youth in Kenya are taught to listen to the elders, to have them show you how to heal a sick cow, how to protect yourself from the lions, the hyenas. Young men learn to grow up to become warriors, which is their primary goal. Young children learn from the elders, mothers and fathers," Kamanga said. "I am proud to be among the Navajos, who are proud of their culture just like the Maasai."
The tour was coordinated by former Miss Navajo Nation Radmilla Cody, and Anne Doyle, Heritage program manager from Northern Arizona Museum. When Radmilla accepted the invitation to help out the tour group, she contacted James Peshlakai to help coordinate. On Wednesday the group was to visit Star school as well as some of Radmilla's family to demonstrate how to make Navajo pottery. On a recent visit to Kenya, Radmilla says she brought valuable information home to Navajo land to share with her people here.
Maasai Warrior festivities started out early in the day at the Grand Canyon by James Peshlakai. He spoke to the Warriors about the Navajo culture. He shared the history and its meaning to the Diné and its aboriginal people. Following the tour, the group came to Floyd and Mae Stevens sheep camp in Cameron to begin the night of storytelling, music and dancing. They spent the night in the male Hogan. James also taught them about the meaning of the male and female Hogans.
As the sun set over the desert horizon, dancers and performers came by invitation and those that just came out of curiosity.
According to Kamanga this became a community project. He was most thankful to his hosts Mae Peshlakai and her daughter who made the earth oven roast beef and fried bread for all in attendance.
Peshlakai talked about different regions where Navajos live. Not all Navajos are the same he said. He talked of the "mountain people" who mainly live in and around Crystal, New Mexico. Bears, deer, turkeys, and larger animals co-exist with inhabitants of these communities.
"They are mountain lion people," said Peshlakai. "We are the desert people who co-exist with the coyotes, desert animals, even occasional javelinas.
"It was all good. I learned most from my niece Radmilla. She shared her story of growing up with hate, racism, oftentimes from her own people. She learned not to hate by going to Kenya. She doesn't hate. She spreads love, by sharing her culture through music. She teaches love and compassion, and tolerance," laments Peshlakai.
The Warriors dressed in Traditional clothing of bright colors, mostly red. Their bodies adorned with many colors of beadwork. All carry a wooden staff to signify Warrior status. Kamanga stresses they are "normal" people.
"We don't normally dress in Warrior regalia daily. We dress just like any other people. We too, have a normal life, just like Native Navajo people," he said.
After dinner, those in attendance were treated to a dance performance by the Warriors. This is often referred to as the response and call pattern. As the dancers jumped and swayed in unison, one cannot help but feel a great appreciation for this very unique and distinct culture.
An observer explained the dance similar to the stomp dancing of Oklahoma.
Kamanga shared a story of resilence. A brave Warrior in Kenya who was too small in size, who everyone said he can't be a warrior; he was kicked around by everyone.
"Even a small person can save a Nation," said Kamanga. "If he uses his brain. A brave person never starts a fight; he will wait all he can, because he knows the consequence. A coward and a fool start a fight because they don't know about the consequence. A brutal king made unreasonable demands of the Maasai such as bringing him a calabash of fleas. A young brave said he needed someone to help him defeat the king's army who was attempting to take over his country. He carried a small stick as he did not have the strength and muscle, or the voice, to carry a heavy sword. His people laughed at him when he told of his plans to defeat the vicious king. Since he did not get anyone to help him, he planned and prepared for the defeat. He alone attacked the king and killed him. To honor this defeat, the Maasai Warriors today carry a staff decorated with beadwork which has a rounded tip."
Never take anyone for granted is the moral of the story. No one should feel inferior. Everyone should be accepted as an equal and given opportunities for the betterment of their community.
The Warriors were also treated to flute music, Navajo traditional songs, ribbon dancing, and storytelling. There was even some joking from Peshlakai.
"I heard that you guys get attacked by lions, I once was attacked by a cougar, she stayed around, and every so often she still attacks me!" he said, this comment sent the crowd roaring with laughter.
At the end of the performance, the Maasai Warriors honored their hosts James Peshlakai with a Maasai warrior robe and a staff. Peshlakai was so honored that he blessed himself to the East, the South, the West, the North, praying for Peace, healing, harmony, and tolerance. Mrs. Peshlakai was also honored as well as Mr. and Mrs. Floyd Stevens who were also honored with gifts, among them beaded necklaces and brightly colored shawls.
As the sun set and the dust settled, there was a distance chirping of birds and desert animals. Certainly, they too were pleased and at peace. All is well among the new friends, the Maasai and the Diné.