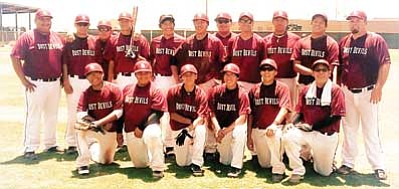 Originally Published: August 14, 2012 11:07 a.m.
TUBA CITY, Ariz. - During the regular school year, neighboring Tuba City High School and Greyhills Academy High School are divided by a seven foot iron wrought fence with students coming in from the same areas and they both compete in the Arizona Scholastic Association (AIA) in all areas of sports. With very competitive natures there is a depth of talented individuals, and in any competitive level, both schools don't always see eye to eye in bragging rights for Tuba City, but there comes a time when talents have to be combined and all else have to be put aside to form a team comprised of players from both sides of the fence. This summer, this feat was successful in the sport of baseball as young men formed the Dust Devils to compete in this year's Native American Baseball Invitational (NABI) July 18-21 in the Valley of the Sun.
High school graduates whom thought their playing days were behind them were treated to prepare for the annual summer NABI tournament. Center fielder Tim Tsinagine, a 2012 graduate of Greyhills Academy High School describes the forming of the Dust Devils as a challenge since players were used to different systems of coaching styles.
"It seemed difficult to many, weeks after weeks we paid with our sweat Monday through Friday each day at 6pm. Baseball isn't a game to us, and it's about life. The one place we feel at home, where our dreams are capable of taking place. We needed to trust one and help one another to make a stronger team. Taking NABI would take us to a new level and become role models for other young Native Americans to join the fun," Tsinagine said.
Teammate Jarid Slim, also a 2012 graduate from Tuba City High School, has played in the NABI tournament the last five tourneys and says this year's players were top on his list for teams he has played on.
"Everyone was playing with pride, win or lose we all walked off the field holding our hearts held high. We all treat each other like family," Slim said.
With a new experience of relearning the team concept with talented players, the Dust Devils had their work cut out for them to jell into a team that could be competitive. Wyatt Tee, 2012 Tuba City graduate and shortstop, says he was the eldest of the players so he took it upon himself to rise to the leadership role and help be a coach and mentor to his younger teammates. Jeremy Yazzie was the recipient of Tee's teaching of the short stop position on the field.
Tee said of Jeremy, "I really had an inspiration teaching Jeremy who was our secondary shortstop, knowing he had three more years to compete in high school sports and if my teaching can help him make him a better leader, I fed him with ideas about the roles of a shortstop has with the pitcher."
Tee reflected upon an idea that once was just a dream.
"I've always thought about how a Tuba City and Greyhills team would be like if the schools were not split? This team I will never forget, it was an experience, I'm going to cherish this and keep it in my mind. We played our hearts out," said Tee.
With a mix of talent at every position on the field, this was a dream most players wish they could have during regular team competition, with six players from Warriors and nine players from the Knights, this Dust Devil team was at a level that most didn't think would work from the beginning including catcher Micah Manygoats. Manygoats is going to be a senior for the Warriors this coming fall. Before coming out to practice as a team, Manygoats said, "Playing with two schools that are rivals are like playing with two things that just don't mix together but these Knights and Warriors made it work as they put aside their rivalry to make a strong team of NABI."
The common thread of holding together this team was family, roots and the desire to succeed. Many of them owe a debt of gratitude to their respective coaches, family members and players from the majors. While NABI is a stepping stone and a door to opening opportunities for young Native Americans whom would like a chance to play at the next level of collegiate competition. For the players that have completed high school are now ready to move forward, this gateway of opportunity has exposed them to college recruiters and a chance at playing college ball and receiving an education. Tsingine said he would like to try out his skills in college before considering the military preferring the US Marines as his choice of branch.
Shawn Deel a recent graduate from Greyhills said of his experience with the Dust Devils, "I think we combined together like peanut butter and jelly in the end, our greatest competition was the heat in the tournament. I thank my teammates for making my 2012 season."
Coaches Mike Hook and Terrance Nockideneh have taken these young men to a new level with their respect for the game and willingness to take that extra time to work with young men from two different schoolso. And with their determination and leadership they have succeeded in forming what was once thought of as impossible to many of the players, the Dust Devils.
Tim Tsinagine commented on his coaches respect to the players on and off the field, "they treated us like their very own, turning us young boys into young men, they said always think positive through good or bad, never let down in life, keep fighting to the end, because when it is all done; let go and keep playing."
At the beginning of the new school year, you will find the Dust Devils in different places, different high schools, different homes, and leading different lives, but the common bond between them is held in the concept of family. Taking care of the person next to you and knowing they are representing their families, homes and communities. Best wishes and respect go out to Dust Devil pitcher Carlton Robbins (GH), First Baseman Ryn Morgan (GH), Third Baseman Jarid Slim (TC), Shortstop Wyatt Tee (TC), Left Fielder Cody Graham (TC), Center Fielder Tim Tsinagine (GH) and Shawn Deel (GH) as you move in your endeavors and giving your best to the game of baseball. They all have graduated in the spring from their respective high schools.