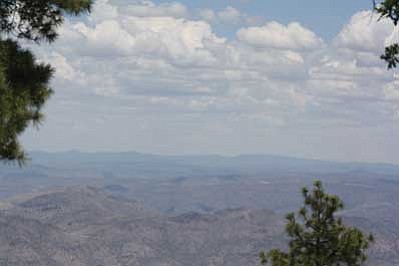 Originally Published: August 14, 2012 10 a.m.
PINE MOUNTAIN, Ariz. - Arizona Highways calls Pine Mountain a good winter hike. Some folks say it should be hiked in the fall because the leaf colors are glorious. So, why the heck did we hike it during the heat of the summer?
One of the best parts of hiking during the summer is that a small section of Sycamore Creek runs through it, so it's a good place for hikers to rest or enjoy the cool waters, especially on the way back after working up a sweat.
Arizona Highways calls it a moderate 9.6 mile hike that climbs about 1,700 feet. The Prescott Hiking Club called it moderate to strenuous, but either way you top out at 6,814 feet with spectacular views of Humphreys Peak, the Verde River Canyon, Matazal Mountains and Horseshoe Lake.
There is one section of about 800 feet going up switchbacks in the sun that is fairly grueling, but aside from that the hike isn't too hard.
Though the flowers weren't abundant, there were enough of them that butterflies were abundant.
Donna Overland was the hike leader and just when the heat might have become an issue the clouds moved in to cool everybody off, but Sycamore Creek was still appreciated on the way out.
Most of the trek is tree-covered with Arizona Sycamores, ponderosa pines and alligator junipers, but some parts of the hike are out in the sun. Going up the switchbacks, it's good to look for trees and shade for the quick huff and puff water breaks.
This is a trail that has to be reached with a high clearance vehicle and signs warn that it should not be traveled in wet weather. To get to Pine Mountain, motorists must go to the Dugas turnoff at Interstate 17 and then travel 18 miles on mostly washboard road that causes motorists to go about five miles an hour.
Upon arrival, hikers know why this is worth coming to as they are greeted by a tree covered campsite. There was nobody in sight when we arrived. When we left about six hours later, about three vehicles had come in including a Forest Service vehicle.
Those looking for solitude will come pretty close to it on most days. We didn't see anybody else on the trail, just the handful of campers who entered after we came off the trail.
Those who like Arizona history can find a touch of it here. Early homesteaders known as the Nelsons lived here and there are a few remnants, mostly rock walls. Dugas is named after rancher Fred Dugas who established the ranch in 1879. A working ranch is still located there and a few houses are seen on the way into Dugas and a little past it.
For more information, telephone the Verde Ranger District at (928) 567-4121 or log onto www.fs.fed.us/r3/Prescott.
Resource Book - Arizona Highways Hiking Guide by Robert Stieve.
Directions - Take Interstate 17 and get off at the Dugas Road exit. Take Forest Road 68 southeast for 18 miles to the trailhead for the Nelson Trail.