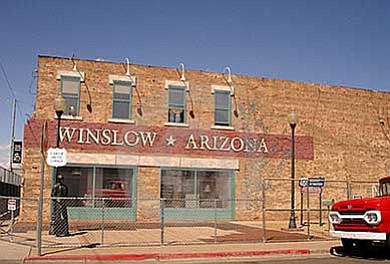 Originally Published: August 7, 2012 11:07 a.m.
I recently began to assess what important and "taken-for-granted" components of my daily life were owed to the city functions here in Winslow. Yesterday morning and this morning, I rolled out for a little exercise on my bicycle. A new but neglected simple machine, which has been parked for a couple years. Parked because other things seemed to be more important. But the cool summer mornings called me out and I pumped up the tires.
Riding around the west end of Winslow was a pleasure since the Renaissance Project has been completed here. Smooth and wide roads with sidewalks bordering them. These new improvements have brought out many "walkers," who before did not want to scuffle through the dust along Second Street, on the west end of town. Cruising on the flat smooth surface reminded me of how the city, in so many ways makes our personal lives very smooth, as we blissfully pursue our individual agendas. Let me list some of the ways -
Clean and healthy water at the turn of the faucet. When you use the toilet or home drains, the material just magically goes away. The streets are maintained with signs and signals that most people obey - this keeps you safe as you negotiate around Winslow. When you see smoke coming out of the house across the street, you call a city service named fire department, to come and deal with it. In the dark night you hear some rattling around your garage, you don't have to deal with it in your pajamas; you call the Winslow Police Department. You also call the fire or police department if there is a medical emergency in your family or an injured stranger in public view. When your neighbor starts to build a five story castle, which will hang over your kids' play area, you can bet that the City (Marshal Larsen) will be looking out for your interests as well as the city code.
The fact that Pioneer Forest Products decided to locate in Winslow is partially due to the diligence of the city in encouraging them. This added source of revenue and pride to your city, was accomplished while you were watching TV. Need information and encouragement for your children, the city library has just what you need. Shoot some hoops, cool off in a pool, grill some pork by the water, swim in the creek or just need some extra space to unwind? City parks, more than your backyard I'm sure. Down on your luck and need shelter, Winslow Public Housing. And after the big party, all you have to do is roll out your green container to the curb on the appropriate day, and the mess just disappears. Amazing.
Amazing, is the word for how the city simplifies your life, taking care of the basics and letting you pursue your goals, interests and dreams.
More like this story