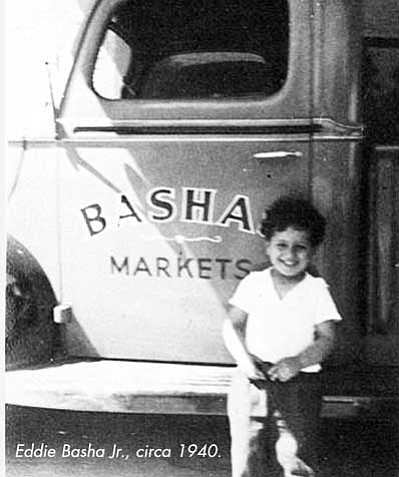 Originally Published: August 7, 2012 10:33 a.m.
NAVAJO NATION, Ariz. - The year was 1980, the letter was from the Navajo Nation, the recipient of this letter was Bashas' Family of Stores, and the purpose of this letter was to ask Bashas' if they would be interested in opening a store in Chinle, Ariz. Within three hours of receiving this letter, Eddie Basha Jr. called the tribal representative who authored the letter and told him that he would like to be his grocer.
One year later the first Bashas' Diné Market on the reservation opened, only the second Bashas' store at the time outside of the valley. Today, there are 10 Bashas' Diné Markets on Native American soil; seven of those are on Navajo Nation land.
This year marks the 80th anniversary of Bashas' Family of Stores, and as the Arizona-based, family-owned and operated grocer reaches this monumental milestone, they are also celebrating a commitment of over 30 years to the Navajo Nation and all Native Americans in Arizona.
The company was founded in 1932 by first generation Americans Ike and Eddie Basha Sr., whose family emigrated from Lebanon to New York in the late 19th century and then to Arizona in 1910. Edward Basha III, grandson of one of the original founders, is vice president of retail operations for the company today.
According to Kristy Jozwiak, director of communications and public affairs for Bashas' Family of Stores, Eddie Basha Jr.'s enthusiasm for the Native American partnership had roots back to when his father and uncle ran the first Bashas' store in Chandler, Ariz. and a good majority of their customers were Gila River Pima Indians.
"They [Pima Indians] would bring their cattle, mesquite wood, and crops they'd grown to sell to his father and uncle in exchange for groceries," said Jozwiak. "As a boy he learned to sing songs in Pima, his dad and uncle both spoke the language, and he had some really great memories of dancing with them and singing in their native language. He just always had a deep love for the Native Americans and those early memories are what inspired that love in him and that desire to want to be the grocer for the reservation."
Jozwiak went on to say that Eddie Basha Jr. saw this opportunity as much more than a commercial venture, but a chance to help the Navajo Nation, train employees and provide jobs, create scholarships, and offer valuable food services. Basha Jr. also did not want to take anything away from the merchants already there but compliment them and add to their existing services. He made sure 95 percent of the employees at each Diné Market spoke Navajo and vowed to never sell alcohol on reservation lands.
For each store on the reservation, at least 25 percent of the profits are dedicated to educating the Navajos in the form of scholarships as well as used for entrepreneurial funding.
Diné Markets in Tuba City in 1983, Kayenta in 1985, Window Rock in 1989, Crownpoint in 1990, Pinon in 1993, and Dilkon in 2002 followed the 1981 opening of the Chinle store. Though still a Bashas' grocery store, the Bashas' Diné Markets differ in several key ways to provide a more customized store for the Navajo Nation and all who live on the reservation.
"In comparison to our stores here in the valley or in Tucson, we know that there are some differences in terms of what we carry," Jozwiak said. "Some examples are the 25-pound bags of Blue Bird flour, Folgers coffee, spam, and some of our stores on the reservation carry velvet and yarn depending on what local suppliers stock. We sell hay in Crownpoint only, because again we're not there to compete but to compliment."
This customization continues with items like bread, cake, rolls, fry bread, sheep, and larger quantities of lamb. Basha Jr. compared Native Americans with the Lebanese, according to Jozwiak, in the sense that neither culture ever wastes any food and always uses every last portion. Within the Navajo Nation Eddie Basha Jr. is referred to as "shik-is," which means friend, and has even received a blessing with corn pollen at a store opening from a local medicine man.
The portion of profits donated to scholarships since Bashas' first opened on the reservation has now grown to more than $6 million. Besides the scholarship money, including payroll and other community donations, Jozwiak estimates Bashas' has contributed more than $143 million to the Navajo Nation.
Four generations of Bashas have worked and continue to work for the local Arizona grocer and the tradition of quality products, friendly service, and commitment to tribal communities is stronger than ever. This strength comes from not only positive feedback and company growth, but the hardships they have faced and had to overcome as well. This is a company that opened during the Great Depression and filed for chapter 11 bankruptcy in 2009, yet emerged from both and are still going strong with over 130 stores throughout Arizona.
Even after all this though, Jozwiak said Eddie Basha Jr. says two of his proudest achievements are getting grades K-3 education funding in Arizona and his great relationship with the Navajo Nation.
Bashas' Family of Stores corporate office in Chandler is also home to one of the largest collections of western and Native American art in the country. Jozwiak encourages people to stop by for a visit and see for themselves. Featured in the gallery is a very large Native American basket collection.
Bashas' also has two stores in Flagstaff and one in Sedona. For additional information, to find products, or to locate a store closest to you visit bashas.com.