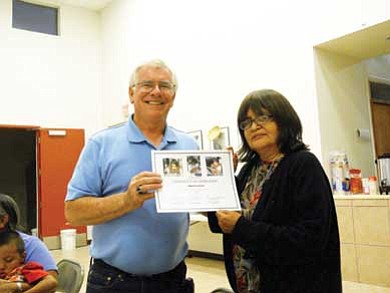 Originally Published: April 24, 2012 12:38 p.m.
HOTEVILLA, THIRD MESA, Ariz. - Hopitutuqaiki Summer Art School, located at Hotevilla, Third Mesa is in its eighth year of an extremely successful program operation.
The secret to its success is a visionary director facilitator, an art-student focused governing board, small, personal classrooms providing one-on-one interaction, master teacher-artists who still work in their own studios in their chosen mediums, a structured, comprehensive art medium completion plan and utilization and sensitivity to Hopi culture and language in all art classrooms.
A final critique of student work and a community exhibition showcasing completed artwork along with a "graduation dinner" are all a part of the summer art school's unique national art education success.
The studio classrooms are spread out over two mesas at Hopi. Varied Second and Third Mesa studio classrooms give students a chance to experience a different art studio environment, allowing them to evaluate how "light" and atmosphere can influence the art inspiration experience. The glass blowing is primarily an outside classroom with the "cold finishing glass studio" inside.
Most of Hopitutuqaiki classes start early morning, around 7 a.m., instilling the Hopi principle of getting up early and beginning the day with discipline and earnestness.
Class schedules for all the summer art offerings range from the brief one-day fabric art "table runner" class at Sipaulovi Village to longer class schedules like weaving, glass-blowing, air-brushing, basket making, traditional weaving and the award-winning preschool held at Kykotsmovi Hopi Day School and studios at Third Mesa villages, Hotevilla and Bacavi.
Classes for the 2012 Hopitutuqaiki will start on June 4 and go through Sept. 14. Prices vary from as low as $24 dollars for a one-day art studio to $240 for the award-winning preschool. There are price ranges for everyone who want to either learn some new art form or maybe just brush up on some of their "old" art skills. Prices range $60, $72 and $120 with most classes running two weeks. Others can go as long as three weeks.
Students who have attended the Hopitutuqaiki have raved about how supportive the environment and master teachers are, how much attention they were given, questions answered thoroughly about traditional origins or art history connected to the "more traditional" classes like weaving or basket-making.
For the more contemporary classes, like air-brushing or acrylic painting or silk-screening, they have been allowed to discover and experiment with newer mediums under the watchful, guiding eyes of award winning artists. The first focus is on learning the basics, then students are encouraged to express and experiment with new skills.
Many of Hopitutuqaiki students return to take additional classes, or to "re-learn" basics of what they learned before.
Either way, this year's Hopitutuqaiki has already had furious interest with a waiting list for at least three of the studio art studios.
Call now for a full schedule of classrooms offerings or visit the website to see what classes are still being offered at www.hopischool.net or call Rhodes at (928) 734-2433.
More like this story