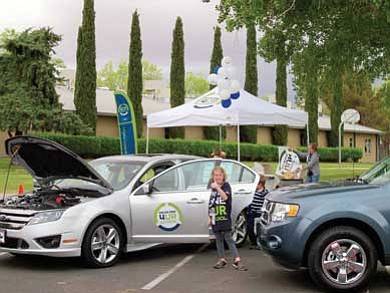 Originally Published: April 10, 2012 3:33 a.m.
PAGE, Ariz. - Educational budget cuts are common, forcing schools in every state to either eliminate valued programs or search for other means of funding.
"Page High School has been greatly impacted by recent budget cuts within the district, which have forced teacher layoffs and the partial closing of Page High School's Cultural Arts Building and pool," said Dan Reddington, General Manager of Lake Powell Ford.
To address these needs at a local level and empower communities to support and protect valued programs, Ford Motor Company and its dealers partner with high schools across the United States to offer the Drive One 4 UR School program. This initiative has raised more than $10 million through nearly 3,000 events since its inception in 2007, and provides up to $6,000 per school through test drives of Ford products. More than 1,150 dealers have partnered with their local high schools to participate in the program and the funds raised can be applied to any area where the school needs support - athletics, music, even to fix damages from natural disasters.
In April, Ford, its dealers and high schools will attempt to raise a record-setting $1 million in a single month through more than 300 Drive One 4 UR School events throughout the U.S.
Lake Powell Ford and Page High School will host their Drive One 4 UR School event 8 a.m.-5 p.m. on April 28 at Page High School, 434 Lake Powell Blvd. Local residents will get a chance to drive the latest-model Fords, including the fuel-efficient Focus, Fusion and Fiesta, among other popular models.
"We hope to raise a lot of money for Page High School and we're asking for the community to support this cause by taking a no-pressure test drive at the school," Reddington said.
"The Drive One 4 UR School program was developed as a fun, engaging way to help high schools raise and apply money where they need it, and we realized that if we really applied our efforts in April, we could make a greater difference than ever before," said Tracy Magee, Ford Experiential Marketing Manager. "Our dealers really shine here in going above and beyond to serve their communities by joining with local high schools to raise money and protect important programs and services."