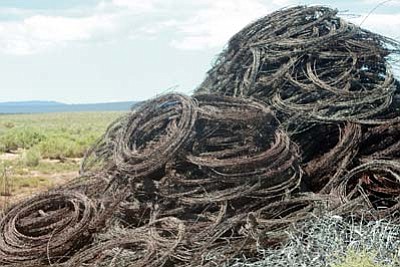 Originally Published: September 27, 2011 11:15 a.m.
FLAGSTAFF, Ariz. - Barbed wire wrapped around wooden posts is seen throughout ranch country. The hands and the sweat of hardworking ranchers and their cowboys are to thank for the miles of fences being there. Barbed wire fences aren't flashy or mechanically engineered. They are practical. They are a tool. They are the backbone of managing ranchland.
Located east of Flagstaff and south of the Hopi Reservation, the Hopi Tribe owns four ranches. The Hopi Tribe took great interest in this land because long ago, their ancestors lived in that area. Duane Coleman is Ranch Manager of the Hopi 3 Canyon Ranches.
Coleman, along with his crew of six cowboys, operate over 445,000 acres of ranchland. This equates to 74,000 acres per cowboy. To say the days are long and the work is tough would be an understatement. However, it is a way of life they all love and it is their contribution in taking care of what was created before them. Maintaining the integrity the ranch is an everyday job and it is crucial to its longevity and the quality of cattle that are produced.
In 2011, the Hopi Tribe applied for and received Conservation Stewardship Program (CSP) funding through the Natural Resources Conservation Service (NRCS) to enhance ranching conservation practices on all three ranches. Seven improvement areas are included in the agreement and are planned to be completed by 2014. They are the following:
Install 180 miles of wildlife friendly fencing, replace five diesel motors, keep livestock contained to water source away from riparian areas, shorten calving season, increase pasture rotation, move mineral supplies one-half mile away from water source, and install five solar sources
This year, Hopi 3 Canyon Ranches were required to complete 60 miles of fence, replace one diesel motor and install one solar source in order to stay on-track. Installing 60 miles of fence was a great feat that was accomplished in three months. Barbed wire in fair condition will be used in other areas of the ranch and rusted sections will be sold to scrap metal companies.
Since 2005 Hopi 3 Canyon Ranches have worked with the NRCS to improve management of their natural resources. They received multiple Environmental Quality Incentives Program (EQIP) contracts to complete projects such as 40 miles of pipeline, and installation of new troughs and fencing. A grassland restoration project was also completed, removing juniper on 24,000 acres.
Liz Bohlke, Hopi Tribe Economic Development Corporation Chief Executive Officer, stated, "We are very pleased with the work that has been done. Our commitment is to put the money back into the ranches. We are very thankful for this and want to use the funds in the spirit they are intended for."
A unique quality many ranches in Arizona have is their history. It is not uncommon to have working pieces of the ranch date back to the 1920s and 1930s. On Hopi 3 Canyon Ranches many of the wooden posts along the fence line and the water wells are little pieces of history that are a constant reminder of the work that was done before us.
"Maintaining the ranch is an everyday job. It has always been that way. When working on and replacing the fence, many of the posts remain. There are pieces of that fence line that date way back. It is a special part of our culture and it is something that will always be," said Coleman. "The same for the well. The water well was done way before us. We just continue to update the insides to keep it working."
With the help of NRCS programs, Hopi 3 Canyon Ranches can continue to treasure the history that makes up its pastures while conserving its natural resources to ensure a positive future. Incorporating energy saving techniques using solar, lowering carbon emissions by replacing old diesel motors, creating wildlife friendly fencing and improving grazing plans are all steps Hopi 3 Canyon Ranches is taking to conserve the land for generations to come.