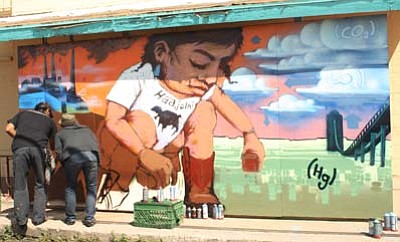 Originally Published: September 27, 2011 11:28 a.m.
FLAGSTAFF, Ariz. - Blacksheep artists group has been around for a while, originally known as the Native Artists club, and it is possible you have seen their work.
Cy Wagner, a member of the group, talked a little about what they do.
"A lot of us are artists and sometimes we paint live at events and chances are you've seen some of our work around Flagstaff," said Wagner. "We are non profit and once our group became more tight knit we came up with the name Blacksheep art, black sheep meaning we stand out as artists, we like to explore what does it mean, what can we give as teachers."
The current mural deals with the Navajo Generating Station, and the environmental concerns surrounding the building.
"We like to focus on regional work," said Wagner. "So right now were working with schools and the public to tell a lot more stories. We see this piece as not a political view or an opinion its simply the facts."
The group commonly works with schools and different organizations including Grayhills and Dilkon. The mural they completed this past week is currently available for anyone interested.
More like this story