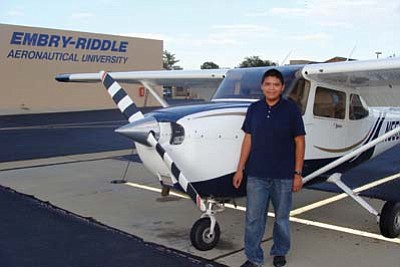 Originally Published: October 19, 2011 1:50 p.m.
PAGE, Ariz. -Ever since he was 14, Tyler Allen knew he wanted to fly.
Today Allen is a 16-year-old Window Rock High School junior with a big dream and a lot of flight time under his belt.
Last summer, he received a grant from the Navajo Youth Achievement Fund, a program of the Page/Lake Powell Community Foundation. He used the grant to attend the Embry-Riddle Aeronautical University Flight Exploration Program in Prescott.
On Oct. 1, he thanked the foundation at its annual fund-raising dinner here.
"I got interested in aviation when I was an eighth-grader in junior high," Allen told about 100 people. "I wanted to travel the world and see famous landmark cities and experience different cultures. That is when I decided to become a professional pilot."
Allen's passion for flying began when he attended a junior high school career day. He saw a presentation by photographer and author Adriel Heisey, a pilot for the Navajo Nation Air Transportation Department.
A short time later, Allen was flying with Heisey and learning the basics of aviation.
"As we began this, we didn't know what to expect," Heisey said. "But as we've had these experiences, he's proven himself to be an exceptional person, and that's really wonderful to see."
Through Heisey, Allen met his second flying mentor, Greg Brown, an aviation writer and flight instructor from Flagstaff, with whom he's logged more air time in Brown's Cessna 172.
"Everyone who meets him sees his sincerity," Brown says of Allen. "He has a nice combination of humility and ambition. When I first met him, I saw his enthusiasm, intelligence and warmth. We've come to admire him tremendously because he's a very hard worker."
Brown says the first time he flew with Allen he was impressed with his natural aptitude for flying.
"He has a marvelous innate sense of direction and location," he said. "So the very first time we flew together, he took us up to Window Rock and then he took us back. He innately knew his location, which struck me as a wonderful natural talent that he has."
The Navajo Youth Achievement Fund supports several Navajo students with financial needs who participate in summer educational programs in music, math, science and other accelerated academy programs.
Page/Lake Powell Community Foundation board member Robert Talbot, plant manager of the Navajo Generating Station, said Allen is a student with great ambitions and clear goals.
"Becoming a pilot takes a combination of dedication, discipline, patience and experience," he said. "Allen is a driven young man who has acquired some great attributes. He's got high ambitions, and that's what this program is all about. It sets their targets and their goals for where they want to go in the future."
At the Embry-Riddle campus facilities the student summer participants received ground training, flew in the schools new C-172 Simulator, and piloted a C-172S aircraft. All of the flight training was conducted by certified university flight instructors.
Allen said the students learned about aerodynamics, glider design, basic airplane structures, wing and tail surface design, flight planning, flight technique, aviation history, stalls, speed turns, basic maneuvers, and how to work as a team to solve problems.
One project was to build a glider to compete for the longest distance, he said.
The students spent time on a cross-wind trainer which simulates extreme weather conditions, he said.
In the Aircraft Accident Lab, they learned to understand how and why planes crash.
"This is where they have a field of crashed airplanes and where we went to understand how they crashed, and we would figure out how to prevent it," Allen said. "We saw all different kinds of plane wreckage, and the staff members would ask how did we think they crashed."
Among the highlights of the program, he said, was flying around the Prescott area, landing in Sedona, taking a two-hour day flight to St. George, Utah, and a night flight to Scottsdale to learn about instrument flight. The students also visited Sky Harbor Airport to learn about air operations.
"It made my dream of becoming a pilot a step closer," Allen said. "After going to Embry-Riddle and experiencing college life, my goal is now to become a professional pilot and fly for major airlines, and even become a pilot for the Navajo Nation flight department in Window Rock.".
Greg Brown says it was fortunate for Tyler to attend a summer program at Embry-Riddle, which enjoys a reputation as one of the best aviation schools in the world.
"Anyone who is a pilot, is in aviation safety, executive people, this is where they would go, so this is very prestigious," Brown said.
He described the program as a professionally-oriented, college-style experience.
Allen's inclinations are not limited to a love of flying, Brown said. In 2010, he attended the acclaimed Northern Arizona University Curry Summer Music camp after having learned to play the viola just one year earlier.
This year, in addition to attending the Embry-Riddle program, he wanted to attend a culinary program because of his love of cooking.
But flying is his first love.
"There are almost no Native Americans in aviation," Brown said. "He was probably one of the best experienced guys at the camp. That reflects wonderfully on the Native American community as a whole. He's an ambassador of goodwill for Native Americans."
Allen said the summer program made him want to get good grades in school and be able to get into a good aviation school. He said he hopes to attend Embry-Riddle after high school.
"This camp was a really great experience. It started me on my career. Without the Navajo Youth Achievement Fund, I could not have gone to Embry-Riddle, so thank you to everyone in the fund for helping me with this great experience this summer."