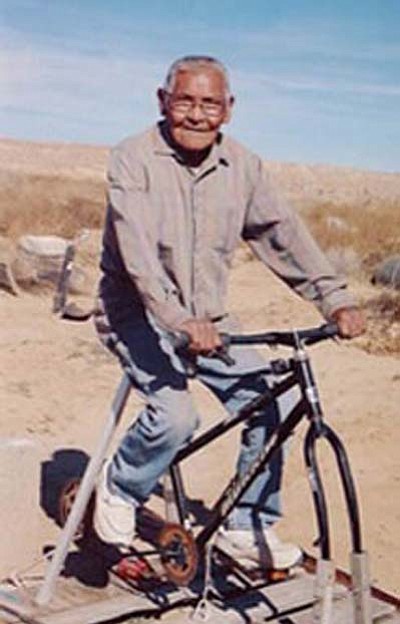 Originally Published: November 23, 2011 1:59 p.m.
KYKOTSMOVI, Ariz. - Hopi Tribal member Thomas Nahsonhoya is one of four Native American men selected to receive the 2010-2011 Arizona Indian Living Treasures Award (AILTA).
Nahsonhoya and the other award recipients were recognized during a ceremony held recently at the Heard Museum in Phoenix. Nahsonhoya was honored for upholding Hopi traditions, including the art of textile weaving. He and the other three recipients were each presented with a Pendleton blanket embroidered with their name and a certificate of recognition from Arizona Gov. Jan Brewer.
"The talent and art of weaving Hopi textiles is on the verge of loss and Nahsonhoya is one of the few elders who not only made it their livelihood, but have passed the necessary skills on to our future generations," said Hopi Tribal Chairman LeRoy N. Shingoitewa. "Be it woven belts, kilts or garment pieces for a Hopi bride, as well as those used in Hopi ceremonies, it is well deserved for Nahsonhoya to be recognized for his skills and for carrying on the traditions of our Tribe."
Born on Oct. 15, 1928, Nahsonhoya is from the Roadrunner Clan and resides in the Hopi Village of Sitsomovi on First Mesa. A traditional Hopi man, Nahsonhoya has lived and practiced the teachings he received from his elders and has been weaving - a tradition that is taught to be the Hopi man's responsibility - since he was a young boy.
He has continued to pass on his wealth of Hopi knowledge, instruction and talent to young men within the tribe and recently taught two brothers who will continue to carry on his work and talent in textile weaving for years to come.
Nahsonhoya was also recently recognized by the Pu'Tavi Project, a non-profit organization on the Hopi Reservation, as a Hopi Living Treasure. He and his wife Elsie have been married for 58 years and together they have three daughters and two sons, who have passed on, nine grandchildren and six great-grandchildren.
Other 2010-2011 recipients of the Arizona Indian Living Treasure included Herbert R. Stevens from the San Carlos Apache Tribe, Joseph Joaquin from the Tohono O'Odham Nation and Chester Kahn from the Navajo Nation.
For more information on the Hopi Tribe, visit www.hopi-nsn.gov.