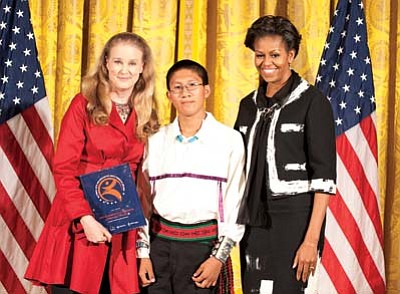 Originally Published: November 8, 2011 2:59 p.m.
GRAND CANYON, Ariz. - The White House is a long way from the Hopi Nation but Jordan Lomahoema, 15, of Keams Canyon, traveled to Washington, D.C. last week to receive a President's Committee on the Arts and the Humanities (PCAH) award from First Lady Michelle Obama in the East Room of the White House on behalf of the Grand Canyon Music Festival's Native American Composer Apprentice Project (NACAP).
The program was recognized for its effectiveness in developing learning and life skills in young people by engaging them in a rigorous program in music composition, one in which students study with professional composers and ensembles, traversing the entire compositional journey, from inspiration, to notation, performance and the recording of their own original works.
Lomahoema, a student at Hopi High School, has participated in the NACAP program since 2010. His first project as a NACAP apprentice composer, a string quartet entitled "A Darkened Heart," traced the events of the night his mother lost her life in a car accident. Now a sophomore, Lomahoema lives with his grandparents and continues to write music as a NACAP apprentice composer.
Chosen from a pool of more than 471 nominations and 50 finalists, NACAP was one of 12 after-school and out-of-school programs across the country to receive the award, the highest honor such programs can receive in the United States. The award is in partnership with the National Endowment for the Arts (NEA), the National Endowment for the Humanities (NEH), and the Institute of Museum and Library Services (IMLS). The award honors community-based arts and humanities programs that make a marked difference in the lives of their participants by improving academic scores and graduation rates, enhancing life skills, developing positive relationships with peers and adults, and expressing themselves creatively.
"Having the chance to represent my peers in accepting this award from the First Lady of the United States in the White House was an experience that I'll never forget," Lomahoema said. "It showed me that the power of programs like the Native American Composer Apprentice Project is recognized and valued."
Obama said the arts provide unique opportunities for students to learn outside a traditional classroom.
"When a student writes a play, she's not just learning how to put lines on a page. She's boosting her language skills, becoming a better public speaker, gaining a sense of pride in her ability to set a goal and to reach it," Obama said. "In the end, that's really what all this work is about. It is about helping our young people grow and inspiring them to give back. It's about taking an interest in them, and challenging them to dream a little bigger and reach a little higher."
Clare Hoffman, Founding Director of the Grand Canyon Music Festival along with Robert Bonfiglio, said NACAP was created to nurture the musical talents of Native American students, to provide them with the tools they need to develop their own compositional voices and to give them a platform for their voices.
"While NACAP is a rigorous composition training program, its overarching objective is to give these students, isolated through geography and marginalized by the dominant culture, voice through a challenging, empowering artistic experience. Since its founding in 2001, the program has engaged more than 3,000 young people in a unique creative opportunity for Hopi and Navajo reservation youth. NACAP is a dynamic, hands-on experience, challenges its students as they create empowering evidence of their achievements - their own musical compositions.
Hoffman said she has already seen the positive results from NACAP in tangible ways. When Michael Begay first became involved in the program, he was struggling to stay in high school.
"This experience changed my life," Begay said.
A NACAP student for three years, Begay (Navajo, Grey Hills Academy) went on to attend the Conservatory of Recording Arts and Sciences in Tempe, Arizona, has been asked to compose music for two independent films, and is currently working at Navajo Radio. In 2007, Begay joined NACAP as an assistant, applying for and receiving grants from the American Composers Forum's First Nations Composer Initiative to support his work.
"The Grand Canyon Music Festival's Native America Composer Apprentice Project gave me discipline, not just in writing music - overall," he said. "It opened my mind to art and how powerful art is. What gets me going is, I come from a land that is beautiful and always shimmering with broken dreams... broken bottles."
In 2010, Begay was invited to the Arkansas Songs Unlimited Festival where he worked with composer Libby Larsen.
Drop out rates among Native American students are twice that of middle class White students, with an unemployment rate triple that for non-Native youth. Only 8 percent of students go on to earn a bachelors degree. NACAP participants graduate from high school, and many have gone on to college.
"Maximum arts involvement effects on young people come from direct involvement in the performing arts. Navajo and Hopi students involved in NACAP have the most direct involvement in the artistic process: they are the creators of the works performed and studied," Hoffman said. "They are afforded the same serious attention and respect as the professional composers with whom they share the stage."
The award was celebrated by a number of the Grand Canyon Music Festival's long-time partners and supporters, including the ASCAP Foundation, First Nations Composer Initiative, Grand Canyon National Park, NACAP's ensemble-in-residence ETHEL and composers-in-residence Raven Chacon, Michael Begay, and Trevor Reed.
Blair Quamahongnewa, Tuba City Boarding School music teacher, said the program creates a perfect environment for the musical growth of students.
"The Grand Canyon Music Festival's Native American Composer Apprentice Project needs to continue if Native American composers are to be heard," he said.
In addition to the national recognition bestowed by receipt of the prestigious award, Grand Canyon Music Festival will also receive $10,000 to support its programming and engage more young people from the community.
Bonfiglio said he hopes the award will draw attention to the fact that programs like NACAP are essential investments not just in the lives of our young people, but in communities, as well.
"We're incredibly proud of this achievement and of the young people, volunteers, supporters, board and staff who made it possible," Bonfiglio said.
The 12 students receiving awards from Obama represented a wide range of arts and humanities programs, including one program that takes 11th and 12th grade students on a 10-day journey through five Southern states following the path of the Civil Rights Movement (Sojourn to the Past), another that uses art history and poetry as vehicles to inspire, challenge and motivate pregnant and parenting teens (Humanities Rock), and another that engages children and youth ages 5 to 18 in free, high-quality art-making classes that provide students with a positive means of self-expression (Fleisher Youth Art Programs).
"These programs literally transform the lives of the thousands of young people they touch," said Rachel Goslins, executive director of the PCAH. "They give these kids an outlet for their passions and their talents, and teach them to think creatively, to communicate more effectively, to work as a team, and to solve problems."
Goslins pointed to a study recently released by the President's Committee on the Arts and the Humanities, "Reinvesting in Arts Education: Winning America's Future Through Creative Schools," which reports on a growing body of research documenting positive educational outcomes for youth involved in the arts and humanities. According to the report, low-income youth engaged in arts programs are more likely to stay in school, to get good grades, to graduate, and to enroll in college. These benefits of involvement in the arts increase over time for low-income students, who are more likely than their peers to have attended and done well in college, to have obtained employment with a future, to have volunteered in their communities and to have participated in the political process by voting, according to the report.
"By transforming lives and communities, these programs represent an important investment in our future," said Goslins. "It is our hope that by recognizing the best of the best in this field, we will increase awareness of their tremendous power and impact, and give them the opportunity to serve more young people and attract more sustainable support."
Each of the 12 community-based programs will receive $10,000 and a year of communications and capacity-building support in recognition of their accomplishments.
The National Arts and Humanities Youth Program Award is the nation's highest honor for after-school arts and humanities programs. The awards recognize and support outstanding programs that lay new pathways to creativity, expression, and achievement outside of the regular school day. These programs excite and engage a range of students, cultivating imagination, collaboration, discipline and academic success, with demonstrable results. They also provide safe harbors after school, on weekends and evenings for children and youth in some of our country's most at-risk urban and rural settings. For more information, visit www.pcah.gov.
For more information about Grand Canyon Music Festival's Native American Composer Apprentice Project, visit www.grandcanyonmusicfest.org.