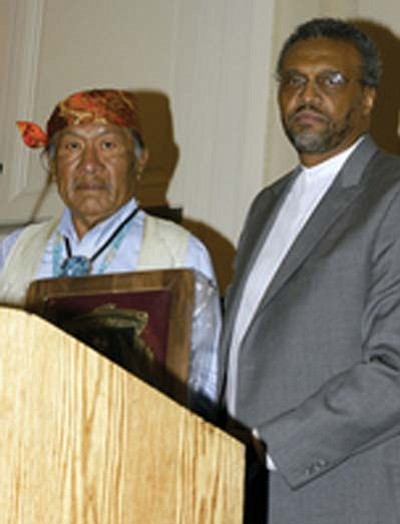 Originally Published: November 3, 2011 2:51 p.m.
CAMERON, Ariz. -Cameron resident James Peshlakai was awarded the prestigious Marvin E. Johnson Diversity and Equity Award at the 11th Annual Association for Conflict Resolution Conference in San Diego. Peshlakai was recognized during the opening session by Marvin Johnson himself. Johnson has over 27 years of conflict resolution experience and is the founder and Executive Director of the Center for Alternative Dispute Resolution. The organization is the largest association for mediators and conflict resolution practitioners in the world. Former recipients of the prestigious award include Rev. Nelson and Joyce Johnson, and Reverend Mpho Tutu.
"It is indeed a great honor to receive this award...519 years ago yesterday (Oct. 12, 1492) our problem with diversity began when we lost land, our language, belief, culture and most of all our people. I am accepting this award on behalf of the Native America, we have to live in peace. In order for this award to become holy, I will sing a Beauty Way Song," said Peshlakai.
The 11th annual conference and exhibition took place Oct. 12-15 in San Diego, drew more than 1,000 people from around the world, and offered over 150 workshops. Peshlakai presented a workshop on his experience in Navajo Conflict Resolution at the conference - a synopsis can be seen at www.azcomgroup.com/peshlakai. The conference theme this year was Many Paths, One Destination, to honor.
Peshlakai was recognized for his vision and efforts in creating a more peaceful society for his people, the Navajo. James Peshlakai is a traditional teacher, artist, and medicine man. Born in the Wupatki area of the western Navajo Reservation, his father, uncles and grandfathers were all medicine men. He himself is an apprentice of several Navajo ceremonies including the Blessing Way. His paternal grandfather, Peshlakai Atsidi, was one of the first and most respected leaders of the western Navajo, being called to Washington twice to speak with President Theodore Roosevelt on behalf of his people.
Peshlakai has dedicated his life to the preservation of Navajo culture. He has spoken on the Navajo way at schools and institutions across the country including Wooster College, Vanderbilt, and the Telluride Institute. He has guided numerous trips for at-risk Navajo youth into the Grand Canyon where he teaches self-reliance, knowledge of native plants, geology, and Navajo culture & tradition. He has been recognized as a WHO'S WHO IN AMERICA Teacher and James has been a participant and leader in continuing education for Navajo adults. He also served as Elder in Residence at Northern Arizona University in Flagstaff, Arizona. He and his wife Mae, an accomplished weaver & silversmith, live in the Cameron Chapter of the Navajo Nation.