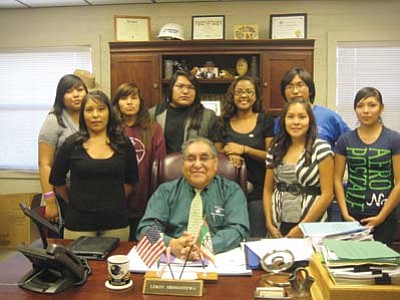 Originally Published: November 3, 2011 2:53 p.m.
KYKOTSMOVI, Ariz.-Hopi Chairman LeRoy Shingoitewa and the Hopi Tribal Council honored Hopi High radio and journalism students during a council session Oct. 25.
After the council session, Chairman Shingoitewa spoke to the Hopi High media students about his background and the tribal council. He then answered questions put forward by the students.
The students came in at the tail end of the Hopi Council discussion on the Peabody mine pact. Hopi Councilwoman Rebecca Masayesva spoke about the need for Hopi to get more money from Peabody in order to help more Hopi students with their college education. The Peabody pact discussion was tabled until Nov. 3.
Eight Hopi High media students attended the council session to learn more about the council and to have a chance to interview the chairman. The eight students were Anthony "Ants" Antone, Christina Rucker, Holly Joy Lomatska, Sheldon Nanacasia, Kaitlin Billy, Shacely Miguel, Tamara Joe and Mary Grace Pewewardy.
Chairman Shingoitewa urged the students to go beyond their high school education to continue to learn. He recounted that he studied at Brigham Young University and Weber State before earning his BS from Northern Arizona University. He later earned his MA from Penn State.
The chairman spent much of his career in education serving as principal at Hotevilla Bacavi Community School, Moenkopi Day School, Tuba City High School and at an elementary school in Flagstaff. He has been the only Native American principal at any Flagstaff school.
"Maybe one day you can be chairman or chairwoman," he told the students. "Don't let criticism stop you. Your number one; you count."
Chairman Shingoitewa urged the students to stay away from drugs and alcohol. He also told the girls not to get pregnant.
"It stops your dreams," he said.
Shingoitewa has a photo of his parents on the mantle in back of his desk and credits his parents for making him the person he is today. He recounted how he became President George Bush's 476th point of light as he was recognized for his volunteer service. He still remembers getting the call from Lamar Alexander, who was then serving as Bush's Secretary of Education.
Rucker, a junior in the advanced radio class, asked Shingoitewa if Hopi has any solar projects in the works. The chairman responded that the previous day the Hopi Tribe met with a solar company from Spain and was hoping to get a solar project going along its property near I-40.
Nanacasia, a junior in the beginning radio class, asked if any economic development projects were on the horizon. Shingoitewa said that Hopi is interested in getting its own coal mining company going so they could sell the coal internationally.
He said the tribe is also looking forward to developing its properties in Flagstaff and Holbrook as well as its three ranches in the eastern part of the state. He is particularly proud of the Moenkopi motel project because these businesses practice Hopi preference.
Miguel, a sophomore in the beginning radio class, asked why he likes being chairman. Shingoitewa said he is here to help the people.
"I know the traditional and the white man's ways. We need to put both together," he said. "I feel comfortable in any group."
He said if people are scared among other people that they only end up scaring themselves.
Billy, a sophomore in the beginning radio class, asked what was the toughest part of being chairman. Shingoitewa said since he is 69-years-old that the toughest part is keeping his energy up on long days. He said that he doesn't drink and he represents Hopi in the best way possible.
"I don't want people to think that's how Hopis are," he said.
Shingoitewa said being Hopi is hard, especially for women who have to grind corn and prepare for the ceremonies.
Joe, a sophomore in the beginning radio class, asked if there were more youth centers if it would cut down on drug and alcohol abuse by youth.
Shingoitewa said staying away from drugs and alcohol is essential. He said in high school six of his ten friends died from drugs or alcohol abuse, but he didn't drink. He said one of the best comments he received came at graduation when one of his friends told him: "I'm proud of you because you never drank."
Shingoitewa said neither of his parents drank. He also noted that they never abused each other.
"Drugs and alcohol destroy people. All of the biggest problems in the villages are related to drugs and alcohol," he said.
Pewewardy, a senior in the journalism class, asked how the tribal council can improve education. Shingoitewa said more funds are needed for education., especially for scholarships. He said a lot of parents don't have the money to put their children through college.
Lomatska, a senior in the advanced radio class, asked the chairman if he kept his campaign promises. Shingoitewa said he has tried to do that with the emphasis on protecting Hopi water and land.
"It is critical. We need the land for the use of the Hopi people," he said.
Shingoitewa said his administration has brought credibility and stability to the government. He noted that he supported amendments to the Hopi Constitution, but that voters rejected that proposal.
Lomatska said students would benefit by knowing what's in the Hopi Constitution so that they would know their rights. Shingoitewa said he would be glad to come to Hopi High to talk to students about the Hopi Constitution. He noted that the Hopi Constitution only allows those who speak fluent Hopi to serve as chairman.
"That narrows it to a few people. It cuts out the young people," he said.
Antone, a senior in the advanced radio class, asked what the tribe is doing help youth. The chairman said not much.
Shingoitewa said many of the council members feel that education support should come from the schools or the family. Shingoitewa said Hopi youth need activities during the evenings. He said in the Flagstaff elementary school where he served as principal that students had activities until 6 p.m.
"If students don't have stability in the home, they will find it somewhere else," he said. "We have the same issue, but we don't admit it."
Lomatska said the Hopi Reservation needs a large youth recreation center.
"Kids are all over the place late at night. We have teen pregnancies and this needs to be settled," she said.
Chairman Shingoitewa said the youth need to tell the tribal council what they want.
"Then we can push these programs," he said.