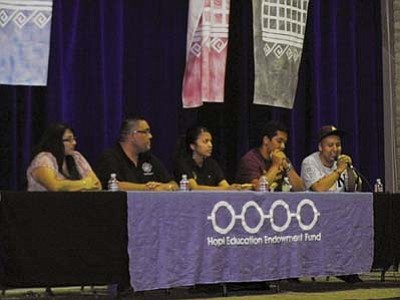 Originally Published: November 3, 2011 2:48 p.m.
For the eighth year the Hopi Education Endowment Fund (HEEF) will be holding their annual Alumni Challenge. The goal of the Challenge is to not only raise at least $6,000 from HEEF supporters but also to engage Hopi alumni and provide them with an opportunity to give back to their community for its support in reaching their educational goals.
"This is a great way for Hopi college grads to say thanks and give back to the Hopi Tribe for the scholarship support they received while pursuing their degree(s)," said LuAnn Leonard, HEEF Executive Director and NAU alumnus.
Kicking off on Oct. 15 and running through Nov. 18, the Alumni Challenge will pit alumni of the three Arizona state universities and a group of "other" colleges/universities in a competition to see which group can raise the most funds over a four-week period. According to the Arizona Board of Regents website the average cost for resident undergraduate tuition and fees for students entering in 2010 is $8,010 for the three in-state universities. After receiving federal financial aid, many students still experience a need of at least one-third of their educational costs. The HEEF acts as a secondary source of funding to try to meet that needs for Hopi students.
For the 2010-2011 Academic Year alone, the HEEF was able to provide funding for more than 127 Hopi students at an average of $2,209 per Fall/Spring semester and for 31 students an average of $1,644 for the summer semester.
To make a contribution on behalf of your alma mater the HEEF is accepting donations via cash, check, money order, and credit/debit card (VISA/MasterCard). The HEEF is a non-profit entity of the Hopi Tribe. All contributions are tax-deductible and all participants will be recognized on our website. For more information on the alumni challenge or to make a contribution contact the HEEF at (928) 734-2275, via e-mail: heef@hopieducationfund.org
More like this story