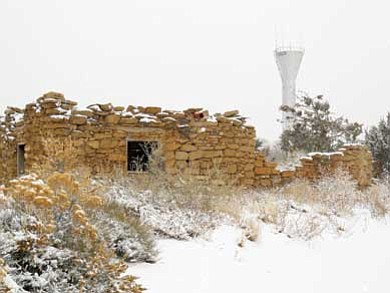 Originally Published: May 31, 2011 3:04 p.m.
HOTEVILLA, Ariz. - May 17 was the final end demolition date for a local, high visibility landmark that could be seen as far away as Second Mesa, Howell Mesa and Navajo areas of Dinnebito and Big Mountain communities.
The Bureau of Indian Affairs (BIA) erected the Hotevilla water tank in 1958. The water tank provided water and sewer services to the Hotevilla-Bacavi Community School, its housing area as well as a few select Hotevilla homes located immediately next to the school facility. The huge tank had been scheduled for BIA demolition for 18 months, since the inside concrete was crumbling and could not be repaired, creating a safety hazard for community and students at the school site.
Part of what made the huge, Y-shaped water tank so distinct was its shape and its height and the name of the Hopi village painted on the top of the tank, which visitors and local residents could see from miles away as they approached the Third Mesa area from east or west on Highway 264.
There was not a formal state highway through the Hopi Reservation until the late 1960s. Travelers had to come to Hopi from Flagstaff, Tuba City or Winslow through a portion of what is now Highway 264. Travelers then had to travel up a dirt road past an old Malco station through the entire village of Hotevilla. They then traveled across the dirt village road behind the village of Bacavi, down the back of Third Mesa, through the Hardrock-Kykotsmovi Valley and then back to the main highway.
On the day of the demolition, many community members stood past the demo-safety tape, sharing stories of climbing the huge tank in their younger years. This was evidenced after the tank was knocked down and it was lying on its side. Hundreds of names and dates of local people were scripted all over the top of the water tank.
Over the years, the Hotevilla water tank also served additional community services as law enforcement agencies added a radio transmission antennae. Most recently, a cellular phone antenna was added to service a wider area of mesa areas and valleys located within the Hopi Reservation. These radio transmission antennas have been moved to another tower structure located on the back area of the village of Hotevilla in the past five years.
Dozens of local residents and HBCS students were at the very early morning demolition site to say goodbye to a beloved landmark that was the first of its kind on Hopi. To date, many homes in Hotevilla do not have running water, even though the tower has been situated in their community over 50 years.