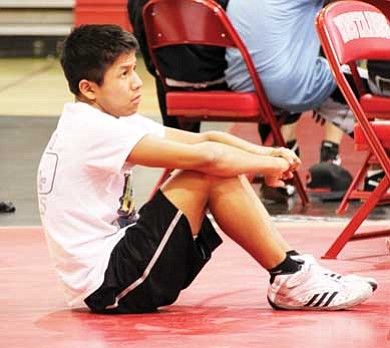 Originally Published: May 17, 2011 3:38 p.m.
There comes a time when every wrestler realizes his competitive career is over. Exactly when that moment occurs varies for every wrestler. For some, that realization takes place in advance of their last match; those wrestlers walk out onto the mat knowing it ends after that match. Others get caught up in the race for the top and don't really want to think about what may be their last match. It is difficult to put an end to something to which you have given so much of yourself. However, sooner or later, every wrestler grasps the reality that he has wrestled his last match, and for many, it happened at state this year.
Kevin Tso is a senior at Greyhills Academy High School in Tuba City. He has wrestled all four years at Greyhills. In February, Tso wrestled at the Arizona State Wrestling Tournament in the Division IV 125 pound weight class. But how did he get there? A 17-year-old Navajo kid, wrestling among the state's best. Tso is no stranger to the wrestling mat; he has wrestled at the state tournament his sophomore and junior year and also placed at multiple high school and national tournaments. Tso has wrestled at National tournaments in Arizona, New Mexico, Nevada, and Montana. Tso compiled a 38-12 record his sophomore year and last year he went 41-9. But this year was different, Tso wanted to end his high school wrestling career with a State Championship.
"I knew where it was going to go and what it was going to take, but I had that dream, of being champion," said Tso, Inspired to wrestle by his older brother, Kyle, Kevin has been coached and mentored by what he calls "the best team and support I could have." After his brother graduated Tso was taken under the arm of Garrett Manygoats.
Manygoats was a state runner up his junior year in 2007 at 130 pounds and took third his senior year at 135 in 2008. Manygoats, along with his twin brother, Garth, worked with Tso his sophomore year, wrestling in the 103 pound weight class. Tso was the Champion at Pat Kenny, fourth at the Tim Van Horn Tournament in Payson, fourth at Mogollon in Heber, second at regions and placed third at state in the 103-pound weight class winning in overtime to claim the bronze. Together with Garrett and Garth Manygoats, they molded the wrestler you see today.
"I've got to give those guys a lot credit for my success in wrestling," Tso said.
During Tso's junior year he jumped two weight classes and wrestled in the 119-pound weight division. He took third at the Pat Kennedy Invitational, crowned the champion at the Joseph City Tournament, fourth at the Mogollon Invitational, and placed second at regions dropping a razor close decision.
At the state tournament, Tso's only lose came from the eventual Champion, Robert Sevgovia, of San Manuel, where he dropped a decision. Tso managed to get on the podium placing third
As Tso 's senior year was approaching he knew he would have one more shot at state. Over the summer he participated in Camp Verde's Weekend Wars all summer where wrestlers from all over the state wrestled. Some even attended from California, Colorado, Utah, New Mexico, and Nevada. He wrestled at the Terminator World Championship in Prescott. He also went to the 2010 Reno World Champion where Tso went 2-2. He lost the first round to Sammy Cano of California but came back and beat two wrestlers from Oregon and California. He lost to a wrestler from Washington.
Tso also wrestled in Butte, Mont. at the AAU Grand Nationals. He took first in all three tournaments in Greco Roman, Freestyle, and Folk-style in the 119-pound weight class division, beating wrestlers from Montana, California, New Mexico, Washington, and Idaho.
At the start of he his senior year Tso had one goal is mind, State. The first tournament would be the Pat Kenny Tournament in Holbrook. Tso lost to both Round Valley and Mountain Ridge by close decisions but in his third place match he beat a State Champion from Joseph City earning him third.
At the Joseph City Tournament, Tso lost to Chino Valley in the semi-finals by a decision. In his third place match Tso found himself down 7-0 to a wrestler from Mohave going into the third period. He knew he would have to do something substantial in order to win. Tso did exactly that, ankle picking his opponent and putting him right on his back and pinning him with seconds left.
Going into the State Tournament Tso had his eyes set on meeting Smiley Beecroft of Mogollon, a wrestler Tso lost to the previous week by dropping a 5-2 decision in their Championship bout. Tso was upsetted by Daniel Dodge of Camp Verde, a wrestler whom Tso had beaten three times during the season. Tso lost an 8-3 decision. After losing that match Tso stormed the mat broken and devastated. He would be found disappointed with his head down crying in the corridor of the arena.
"I remember just crying, and thinking I let everyone down. I thought I was done and didn't want to continue. I mean everything I've gone through and all the sacrifices I made just to win that that state champion was taken away from me in six minutes," said Tso.
As Tso was at his weakest point his former coach, Chris Curley, saw Tso's dream of being a State Champion slip through his hands.
"I remember as I cried he came up to me and said 'Hey, it doesn't matter if you get knock downed, it's whether you get back up,'" said Tso.
Tso also remembers as everyone left him crying in the corridor only one person stood by him, Andrea Harvey, athletic trainer for Greyhills.
"I remember thinking to myself and wondering if I was going to sit here and quit and walk out of here with nothing, or get the next best thing and get that third place medal," said Tso. "She's watched me wrestled since I was freshman. She's helped me through a lot. I remember saying I was done and I can't do this anymore. She said to me, 'It doesn't matter what everyone thinks. You got to go back out there.'"
Tso had to climb a long to get back into the medal rounds.
"I remember praying before every match after my lost and just praying to God and saying, 'Please don't let this be my last match,'" he said.
Tso went on to beat Red Mesa, Thatcher and St. Johns to meet Daniel Dogde again in the consolation semi-final. Tso, beat the wrestler who had beaten him the previous day decisively 10-1.
"I wanted to leave no doubt that I was the better wrestler in that match," said Tso.
Tso met a Moreceni wrestler in his third place match. This would be the final match of his wrestling career.
"I knew walking onto that mat that it ends after this match. Staring across at my opponent, I knew this was it. All the years I've put in came down to this. I didn't want to look back at my last match years from now knowing that I lost," said Tso.
Tso put everything he had left into his last match. Tso won the match by a close decision, 6-3. Tso outscored his last five opponents 45- 13.
"Looking through the stands and in the corridors of the arena at the state championships each year, you will see wrestlers whose careers are over. Sometimes you'll see a mother, sister, wrestlerette or girlfriend crying while holding him; a father looking out onto the arena floor, silently thinking about what could have been. Behind every wrestler are many others who quietly, deep within themselves, wrestle right along side him. They feel the joy of victory and the pain of defeat as if it was their own. When his career ends, much of the anguish they feel is because it is also the end of something that has meant very much to them," Tso said.
"It is a long, difficult road from those very first matches, marked by many defeats, to the state championships. Somewhere in between, childhood ends. Games are no longer important and boys become men. Fortunate parents witness this beautiful transition. It is not without a great deal of pain and sacrifice for the wrestlers and families alike. For most wrestlers, qualifying for the Arizona State Championships represents the single greatest achievement in their young lives. For all wrestlers, qualifying represents an experience they will never forget," he said.
In all, 896 wrestlers entered at this year's state tournament with the same dream of winning that final match. A dream, however, 156 realized. Tso never won a state championship, but he's very proud of what he has accomplished. Tso finished his senior year with a 45-7 record and his high school wrestling career with over 150 wins and being Greyhill's first wrestler to place three times at state.
"I hope people will remember me," he said. "The reality is, there are no losers in the sport of wrestling; there are only those who did not wrestle. Every great wrestler in this sport has that one last good fight in them."
Tso graduates as class valedictorian at 1 p.m. Friday at Greyhills Academy High School.
"At the top of his class, I feel that this is a remarkable story that I was able to be a part of as his coach. I did not officially coach the Knights team this year but kept in close contact all the way through into the state finals," said Curley. "Kevin was selected as the Navajo Times Outstanding Wrestler of the year in the middle weight class. Greyhills Academy High School also recently selected him as the Athlete of the Year and Scholar Athlete of the Year for 2010-11."
"When I first met Kevin, he was as raw but with lots of potential. Seeing him in practice, us coaches look at what strengths an individual could find as their primary move as their signature. Kevin was known to the prep-wrestling world for the ankle pick. Wrestlers knew it was coming but it was also hard to defend from someone who found perfection in executing the ankle pick. With hard work, dedication and keeping up with academics, Kevin began to improve his offensive and defensive skills making him one of the top wrestlers in the state," Curley said.
"After seeing him lose the first match in the 2011 state championships was a blow that was unexpected but I told Kevin, that all is not lost in winning with honor and respect. That life will knock you down but to get back to your feet to prove what makes the person inside. Kevin did that we consecutive wins all the way back to getting third place. As a coach, it proved that it was his heart and willingness to keep going, was what win over the respect of the wrestling world," he said.
(Editor's note: Kevin Tso contributed this article.)