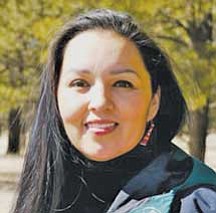 Originally Published: May 10, 2011 4:04 p.m.
FLAGSTAFF, Ariz. - Northern Arizona University and the Institute for Tribal Environmental Professionals (ITEP) are pleased to announce ITEP's new executive director, Ann Marie Chischilly, Esq. Chischilly brings leadership and substantial knowledge to ITEP as a longtime water and environmental attorney.
ITEP is a national tribal training and technical support institute based on the campus of NAU. Since 1992, the ITEP has assisted tribal environmental professionals with support on a variety of environmental challenges including air quality, climate impacts, environmental compliance, and solid waste. ITEP also provides K-16 education and outreach resources to the next generation of tribal environmental professionals.
Chischilly is responsible for coordinating ITEP's work with NAU, state and federal agencies, tribes and Alaska Native villages. Before coming to ITEP, she served for over 10 years as Senor Assistant General Counsel to the Gila River Indian Community, where she assisted the tribe in implementing the historic Arizona Water Settlement Act and founded the Gila River Indian Community Renewable Energy Team. She serves on the Arizona Attorney magazine Editorial Board, Indian Law Section of the Arizona State Bar, Native American Connections Board, and Native American Community Service Center Capital Campaign. She recently served on the National Tribal Water Council and is a graduate of the Arizona Bar Leadership Institute.
She earned her Juris Doctorate degree from St. Mary's University School of Law and a masters in Environmental Law from Vermont Law School. She is licensed in Arizona and has practiced in state, district, and federal courts.
Chischilly is a member of the Diné Nation. She is from Shonto/Kayenta and is Red Streak into the Water Clan, born for Bitter Water Clan. Her maternal grandparent clan is One Who Walks Around, and her paternal grandparent clan is Coyote Pass People.
Chischilly moves into her new role at ITEP with humility and an open mind. "I want to enhance what ITEP is already doing so well," she says. "I want to listen to tribal needs and work with tribes in developing outstanding educational and technical support. I am passionate about this work and have been training for it essentially my entire life. I am honored to serve Indian Country, and I look forward to working with the ITEP community."
Contact Chischilly at Ann-Marie.Chischilly@nau.edu or call (928) 523-9555.
Visit the ITEP website at www4.nau.edu/itep.