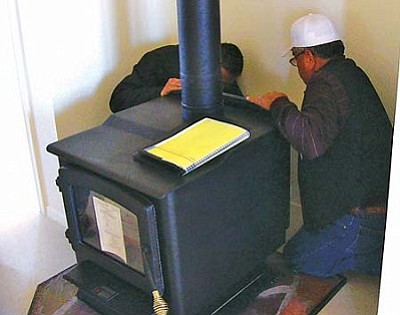 Originally Published: May 3, 2011 1:15 p.m.
PINON, Ariz. - Thomas Gorman, Veterans Service Officer with the Department of Navajo Veterans Affairs (DNVA) in Chinle, is at the center of a group of people completely focused on the new Structural Insulated Panels System (SIPS) highly energy Green Build efficient home, boasting an R-Value of 32 and above.
The home represents a collaboration between the DNVA, the Navajo Housing Authority and the not-for-profit organization, Indigenous Community Enterprises (ICE). Gorman is deeply interested in the home; his office contributed $10,000 as leverage for the house that will soon serve as home for Navajo veteran Terrence Begay, his wife and seven children.
"I would say on behalf of our veterans, this is what we'd like to do more of," Gorman said. "This is a prime example of what can be done with collaboration. I'd like to be a part of promoting green, self-contained homes. This is the future of the whole reservation."
Gorman sees younger Navajos looking for better quality of life, and more affordable homes are a part of that in his view.
"I think the Navajo Nation as a whole is becoming more Americanized, demanding improved resources and wealth," Gorman said.
The home is the first DNVA-supported project in the area to use SIPS.
According to Senior Project Director Timothy Nelson Sr., SIPS contains recycled Styrofoam, which is sandwiched between plywood to create self-contained walls, custom-cut to fit the specifications of each home.
"SIPS comes in [pre-measured] panels in needed sizes," Nelson said. "For this home we used 12-footers. We put the walls up in one day. The panels come cut to fit. If your measurements of where the windows or doors are off, you have to either change the design or obtain new panels."
The SIPS home has the same R-Value as the straw bale home also presented on April 29, Nelson said. That home was being built for Dolly Kaye, who unfortunately, had passed away during the construction of her home.
"Her son, who is disabled, will occupy the new home," said Hazel James, ICE Executive Director.
"ICE is happy to get homeless families into safe and sanitary homes in the use of Navajo Housing Authority - Native American Housing and Self Determination Assistance/Act NAHASDA- HUD funding," said Roberto Nutlouis, who serves as Project Manager.
Of six ICE homes, inspections have been completed in Cameron ( where a strawbale home won ICE a sustainable award from the Coconino County Sustainable Building Program).
The idea of safe and sanitary homes reflects one of the goals that Gorman believes all veterans, especially those who have served in conflict, deserves.
"Part of reintegrating a veteran into his or her family is making sure that they have a safe place to recover," Gorman said. "We need to realize that we not only have to treat the veteran. We have to treat the whole family and community.
"This is definitely a better opportunity for the combat veteran. We provided $10,000 to defray costs, lowering the mortgage so that the home became more affordable."
The days of free homes seem to be over, Gorman noted, saying that in today's economy, collaborations and sharing of resources from the federal government, state, local community and families themselves are especially important in providing homes on the reservation.
"With the national economy as it is, we all need each other," Gorman said. "We can't do this on our own. We must rely on each other."
The Begay home has special significance to Gorman and his colleague Angie Woody. The funding provided to help build the Begay home was part of money that Chinle's DNVA was accused of misspending.
James did not have exact figures, but estimates the cost of the 3-bedroom, 2-bath home at $150,000.
"The recycling of materials is an idea that must be developed across the reservation," James said. "ICE has been working hard to recycle all leftover materials in its projects. We use material scraps, burning them to warm water needed to do the stucco on our strawbale homes. The plywood we use to make panels for these homes is later used on the roofs."
Later, ICE revealed the new Kaye home, located east of Pinon. The family held a reception/roast mutton feast to celebrate the new strawbale home, where NHA Grants Management Department representatives and NHO-CEO Aneva J. Yazzie were in attendance.