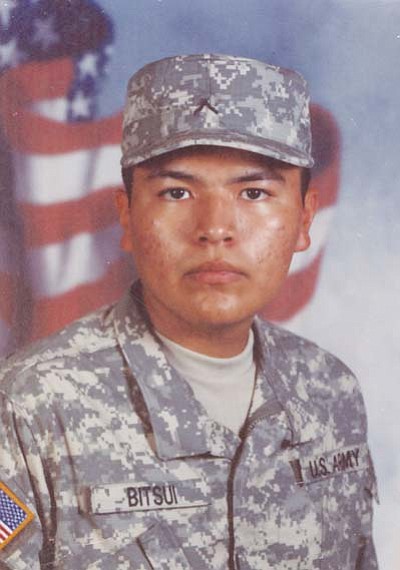 Originally Published: March 23, 2011 12:04 p.m.
Timothy R. Bitsui-Lee was born August 1, 1988 in Tuba City and raised in Flagstaff. He graduated in 2006 from Flagstaff High School.
His hobbies were fishing, camping, and playing his XBox 360. He loved working with wood, building shelves and tables; hanging out with all his nephews, nieces and cousins; and going to the movies (he went every week). He also enjoyed playing basketball and working out. His favorite pasttime was attending Phoenix Suns basketball games.
During the summer of his junior year in high school, he went to boot camp at Fort Leonard Wood, Mo. He was an active reservist for the Army National Guard serving at Camp Navajo and on his fifth year with the National Guard.
He was employed with the Coconino County Sheriffs Department as a detention officer for three years. He was in training to become a police officer.
Timothy passed away March 22. He is survived by his parents Glenda and Kevin Lee; brothers Bryan (Rayletta) and Brandon.; sisters Tamara, Kyla, and Madison; maternal grandparents Raymond and Clara Butler; and paternal grandparents Harry and Lorraine Williams.
Funeral services will take place at 11 a.m. on Friday, March 25 at Christ's Church of Flagstaff, 3475 East Soliere Avenue.
In lieu of flowers, donations can be made at any Wells Fargo Branch to Kevin Lee, Account # 2681180960. Condolences for the family can be left at www.norvelowensmortuary.com.
Arrangements were made by Norvel Owens Mortuary.
More like this story