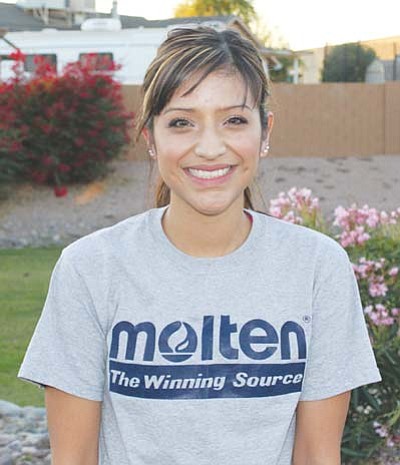 Originally Published: March 22, 2011 3:36 p.m.
PHOENIX, Ariz. - During a recent presentation, Melissa Begay of Window Rock received a $1,000 scholarship from The Northern Arizona Native American Foundation (TNANAF) to continue her college studies. Begay is currently enrolled at Chandler-Gilbert Community College and is seeking her undergraduate degree in education.
Begay is the daughter of Richard and Glenda Begay, and the sister of Amber and Kenisha. She was born into the One Who Walks Around Clan and born for the Big Water Clan.
In her essay for the scholarship, Begay wrote, "Now that more Native Americans are moving off the reservation for school or for work, I am confident that knowing who you are, where you come from, and your past will be helpful in surviving life outside one's comfort zone."
Joan Levitt, Begay's English teacher from Mogollon High School, described her as "bright, determined, energetic and insightful." Her basketball skills earned her the Player of the Year Award for the 1A North Region.
In writing about her favorite book, Angela's Ashes by Frank McCourt, Begay shared, "McCourt grew up in a place where there were not many opportunities to move up in the social rank, but he found a way to do so anyway. McCourt's memoir inspired me to continue schooling and live my life the way I intend."
Brian Buckley, TNANAF Executive Director noted, "Melissa's application spoke eloquently of her desire to continue her education in order to grow as individual within a greater community. Her transcript clearly revealed her commitment to her school work and dreams."
TNANAF is a non-profit organization founded in 2005 in order to provide scholarships and financial assistance to high school students of the tribes of Northern Arizona. In its first five years, it has granted over $20,000 in scholarships to graduating seniors headed to college.
This year's scholarship deadline is May 1. Visit www.tnanaf.org for more information.
More like this story