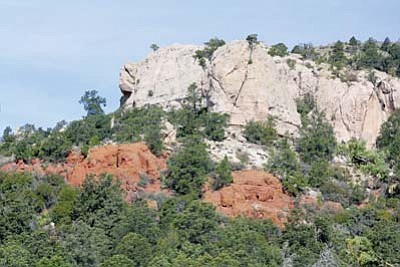 Originally Published: March 22, 2011 noon
PAYSON, Ariz. - Spring was in the air last week on Saddle Mountain Trail 91 before the cooler air returned. During this spring break hike, birds, butterflies and greenery was all around.
This moderate 10-mile hike offers a trip to an old mine, an old potato patch and wonderful views. The hike begins at an old corral with the trailhead just a bit behind it.
This hike has an elevation change of about 600 feet from 4,700 to 5,300, but much of it is at the beginning so hikers have to start out with some umph. After this, there is only some moderate ups and downs.
About two miles in, there is a side trip to an old potato patch that was apparently planted by the miners. Going just a bit further gives hikers a good view of Bartlett Lake. Weaver's Needle in the Superstition Mountains can be seen off in the distance.
On some days, they say Fountain Hills can be seen, but the Valley pollution kept it from sight on this day. The songbirds, blue jays and phainopeplas were busy along the trail.
Saddle Mountain Trail 91 links into Arizona Trail 22. Saddle Mountain Trail 91 leads to the old Story Mine. This gold mine was abandoned and has collapsed so there isn't much to see except some of the old rail in the area of the mine. There was also a jeep trail leading to the mine, but even this was abandoned long ago and could be hard to follow.
Plenty of different colored rocks including jasper were on the trail as well.
This hike was hosted by the Payson Packers hiking club and a couple of them chose to bushwhack part of it to see more of the mine area. The area is thick with manzanitas and one of the hikers had a bloody arm courtesy of the cat claws.
There are plenty of pine trees, other trees and bushes to be seen, but not many of them give the trail shade from the sun, so wear plenty of sunscreen. There is no water on this trek so bring enough needed for the 10-mile walk.
Saddle Mountain Trail 91 is north of Sunflower and south of Payson. It is immediately west of Mount Ord and hikers have a great view of Mount Ord from top to bottom.
To get to Saddle Mountain Trail 91, take the Beeline Highway to old Highway 87 into FR 25 all the way to the end where it terminates at a corral.
For more information, contact the Tonto Basin Ranger District at (928) 467-3200.