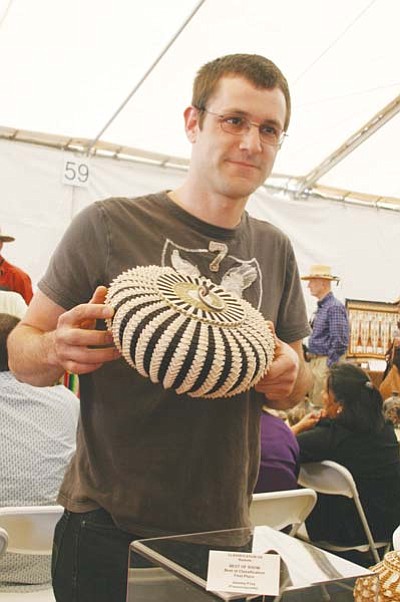 Originally Published: March 15, 2011 1:01 p.m.
PHOENIX, Ariz. - An exquisite brown ash basket, "Pointy Urchin," netted the coveted Best of Show Award at the 53rd Heard Museum Guild Indian Fair and Market on Friday, March 4. The piece was Passamaquoddy basketmaker Jeremy Frey's first-ever Fair entry and appearance.
"I'm amazed," said Frey, 32. "I didn't expect to place that high, especially in my first year out here." In fact, Frey, who lives in Indian Township, Maine, hadn't even planned to enter that particular basket in the competition.
Frey, who was awarded an unrestricted $50,000 grant from the Los Angeles-based United States Artists in December 2010, also took a moment to reflect on his newest honor: "It's overwhelming," he said. "There are a lot of really talented artists here."
Judges for the competition included Keri Ataumbi (Kiowa); Navajo artist Shonto Begay, the Fair's Signature Artist; Bob Bruenig; Janet Cantley; Debra Drye (Hopi/Paiute); Terry Dewald; Jody Folwell (Santa Clara Pueblo); Tiffany Fairall; Larry Golsh (Pala Mission/Cherokee); Teri Greeves (Kiowa); Andrea Hanley (Navajo); Ann Hedlund; Terrol Dew Johnson (Tohono O'odham); Gloria Lomahaftewa (Hopi/Choctaw); Linda Lomahaftewa (Hopi/Choctaw); Bruce McGee; Sharon Moore; Dylan Poblano (Zuni); Nelda Schrupp (Pheasant Rump Nakota); Deborah Slaney; and Marie Wittwer. In addition to other awards, each judge also gave a special Judge's Choice Award.
Winning an award at the Indian Fair and Market is a significant mark in an artist's career. The Heard's juried competition is among the most prestigious in the nation.
Recipients of the Best of Classification award in the eight categories included:
I - Jewelry/Lapidary Work - Maria Samora (Taos Pueblo), "The Lauren Clutch"
II - Pottery - Harlan Reano (Santo Domingo Pueblo) and Lisa Holt (Cochiti Pueblo), "Round Lines"
III - Paintings/Drawings/Graphics - Thomas Tapia (Tesuque Pueblo/Tewa), "Traditional Buffalo Dance"
IV - Wooden Carvings - Stetson Honyumptewa (Hopi), "First Outing"
V - Sculpture - Marcus Amerman (Oklahoma Choctaw), "Frog Vessel"
VI - Textiles/Weavings - Charlene Laughing (Navajo), Territorial Floor Rug
VII - Diverse Artforms - Kenneth Williams, Jr. (Arapaho/Seneca), "Re-tro-spec-ting Traditional Values"
VIII - Baskets - Jeremy Frey (Passamaquoddy), "Pointy Urchin"
Conrad House Award - Orlando Dugi (Navajo), "Regal Beauty"
This year's Juried Competition winners were honored along with 1,000 guests at a special awards dinner and silent auction on March 4, the evening prior to the Indian Fair and Market. More than 18,000 people visited the festival over the weekend.
The 53rd Annual Heard Museum Guild Indian Fair and Market was presented by Canyon Records and generously supported by BlueCross BlueShield of Arizona and by media sponsors Native Peoples Magazine, American Indian Art Magazine and Western Art Collector.
The 54th Annual Guild Indian Fair and Market will take place on Saturday and Sunday, March 3 and 4, 2012.