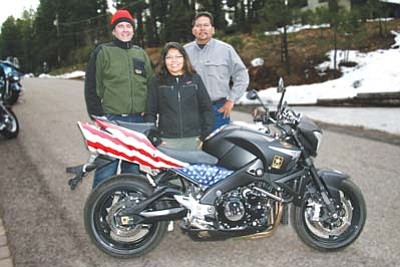 Originally Published: March 15, 2011 12:56 p.m.
The Navajo Hopi Honor Riders (NHHR) organization is conducting a raffle. Drawing will be held on Veterans Day, Nov. 11. The grand prize is a Suzuki B-King 1340, custom-painted by AJs Customs Motorcycle Painting in Mesa. Second prize is $1,000 in cash and third prize is $500 in cash. Tickets are $25 a chance. You do not need to be present to win. All winners will be contacted within 72 hours of the drawing. Proceeds will go directly to the NHHR.
Tickets can be purchased from various individuals, including Ray and She Elshire in Page; Jeff Hancock, Payless Car Sales in Winslow; Chris Muhlenfeld, Unity Technologies in Flagstaff; Larry Noble in Kayenta/Steamboat; and Cornelia Tso in Lukachukai. Tickets are also available through the NHHR online store and at site events throughout the year.
For more information, visit www.navajohopihonorriders.com or call Larry or Shelly Begay at (928) 613-8809.