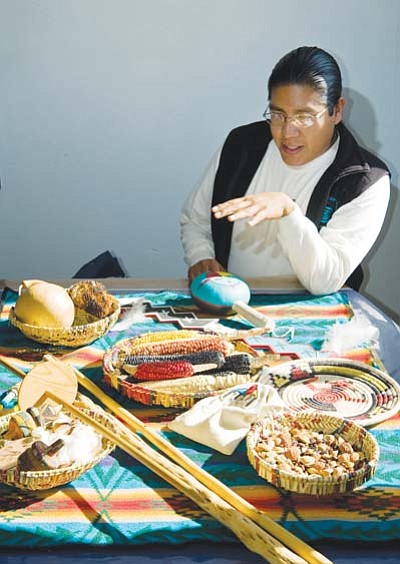 Originally Published: March 8, 2011 6:08 p.m.
HOPI RESERVATION, Ariz. - It was like stepping back in time. Standing in the vicinity of the restored Toreva spring and the terraced gardens just below Sipaulovi Village, the faint sound of distant drumbeats and singing atop the mesa seemed to evoke deeply instilled feelings of serenity and awe, and ultimately, profound appreciation. Despite incursions upon the Hisatsinom (people of long ago) by the first Europeans explorers in the mid- to late-1500s and the arrival of Anglo/Mormon settlers in the latter part of the 19th Century - and even amidst Hopi village factionalism - the centuries-old practice of Natwani Hopit Qatsimkiwa'at'a (farming, Hopi way of life) has all but endured.
On Sunday, Jan. 23, a small group of media staff were taken on a highly informative, albeit whirlwind tour of a number of Hopi villages on Second Mesa and Third Mesa to examine and discuss the history of Hopi farming and agriculture. Organized in part by James Surveyor of the Moenkopi Legacy Inn and Suites, the tour was intended to supplement the Hopi Agriculture Expo and photo exhibit held the previous day by the Natwani Coalition.
The Natwani Coalition, a component of the Hopi Foundation, held the event in an attempt to better inform Hopi residents about the storied legacy of Hopi farming and eventually hopes to resurrect the practice for future generations to come.
Upon meeting tour guide and Hopi anthropologist Micah Lomaomvaya, the group set off to to learn more about the practice of traditional farming and why the practice is in decline. The first stop for the intrepid group was Coalmine Canyon, a scenic area painted with soft natural colors; where reds and oranges contrasted nicely with soft grays and blues, offset only by the dark bands of coal seams for which the canyon was named.
During the drive, Lomaomvaya spoke about how the Hopi people were blessed with carrying on the tradition of Natwani (Hopi faming) and entrusted with the care of Hopi tutskwa (Hopi lands), naming many of the different areas that were once farmed regularly. Many of these historic villages are found in and around the entire Southwest region, and include locales such as Wupatki, Wupatpela (Montezuma's Castle), Tawtoyqa (Mesa Verde), Koyongtuvqa (Canyon de Chelly) and many other sites.
At Hotevilla, the group was able to see some of the community gardens of corn, beans, squash, onions and other small crops located below the mesa along with a community spring that had been refurbished to allow easier access to the water for community members. At Bacavi, the group met with Stewart Nicholas, Community Services Administrator, who spoke about a project he wished to initiate that would encourage and enable more people to utilize the springs and terraced gardens at Bacavi, which were not currently being used.
Want to read more? Look for the next issue of the Navajo-Hopi Observer, which will hit newsstands on Wednesday, March 16.