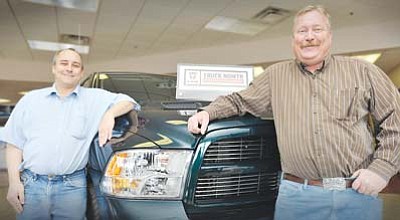 Originally Published: March 2, 2011 9:36 a.m.
On May 1, Cake's Car Company will celebrate 83 years of continuous car sales and service. The original Mr. Cake was Ralph, grandfather of Harvey and Peter Cake, the present owners.
Ralph Cake and his wife Lucille opened Cake Chevrolet in 1929, which was initially located about where the current Bank of The West is now located. Cake Chevrolet had a couple more Winslow locations before moving 15 years ago to their present location at 2400 E. Route 66.
In 1956 Howard Cake and his wife Wilma began operating the car business until 1986, after which his three sons bought the dealership from them. In 1989, Harvey Cake purchased dealerships owned by Tommy Richards.
Cake's is no longer a Chevrolet dealer due to changes in General Motors' dealership terms. One brother (Jim) has left the business due to health issues and the business is now operated by brothers Harvey and Peter Cake.
The current Cake's Car Company is a dealer for Dodge, Nissan and Jeep vehicles and also services all makes of autos. Cake's employs 23 people, providing decades of auto sales and service experience.
The Native American community has been loyal customers over the years, enjoying good prices and service. Harvey Cake explained financing is readily available from a wide variety of sources, available to fit any budget.